20 Coolest Boston Restaurants That You Can't Miss
This post may contain affiliate links, which means I'll receive a commission if you purchase through my links, at no extra cost to you. Please read full disclosure for more information.
Boston is one of the best cities in the United States to visit – seriously, it should be on your USA Bucket List. Located on the Eastern coast of the country, Boston is one city that is filled with so much to do, and it's of course a foodie central. However, it can be difficult choosing where to eat, so I've put together this list of all the coolest Boston restaurants.
A great thing about eating out in the city is that prices in Boston aren't too terrible depending on where you choose to eat. The local restaurants are pretty incredible too when it comes to how much you get for your money!
Special shoutout to my friend Cindy who runs the foodie Instagram account @cindyeatsabunch. She let me use a lot of her photos for this post, and you should 100% follow her on Instagram for some amazing food posts!
Keep reading to learn all about the coolest Boston restaurants.
---
Breakfast in Boston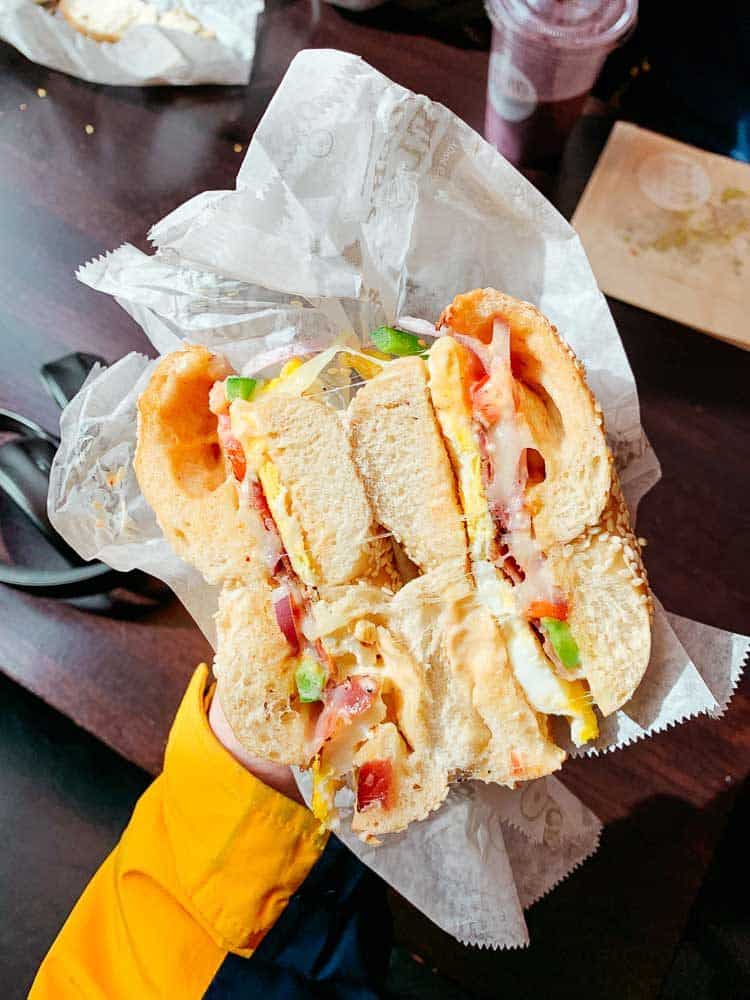 Bruegger's Bagels
375 Longwood Avenue, Boston, MA 02215
Though Bruegger's Bagels locations are abundant across the United States, you're missing out if you've never been. This bagel joint offers very affordable sandwiches that are great for any time of day.
They also have amazing coffee and tea options, and they're always less busy than Dunkin' Donuts! I still think they're one of the coolest Boston restaurants.
Try ordering the Sriracha Honey Sunrise if you're looking for a sandwich with a bit of a kick. It's an everything bagel with an egg, bacon, cheddar cheese, and sriracha honey cream cheese.
Don't worry, it's not super spicy! They also offer other great cream cheese options which pair with any bagel perfectly.
A great thing about Bruegger's is that they also do fun colored bagels depending on what time of year it is! Last 4th of July I was able to buy a baker's dozen of red, white, and blue tie-dyed bagels to bring home. There's just something about eating a bagel that's a crazy, out-of-the-ordinary color!
---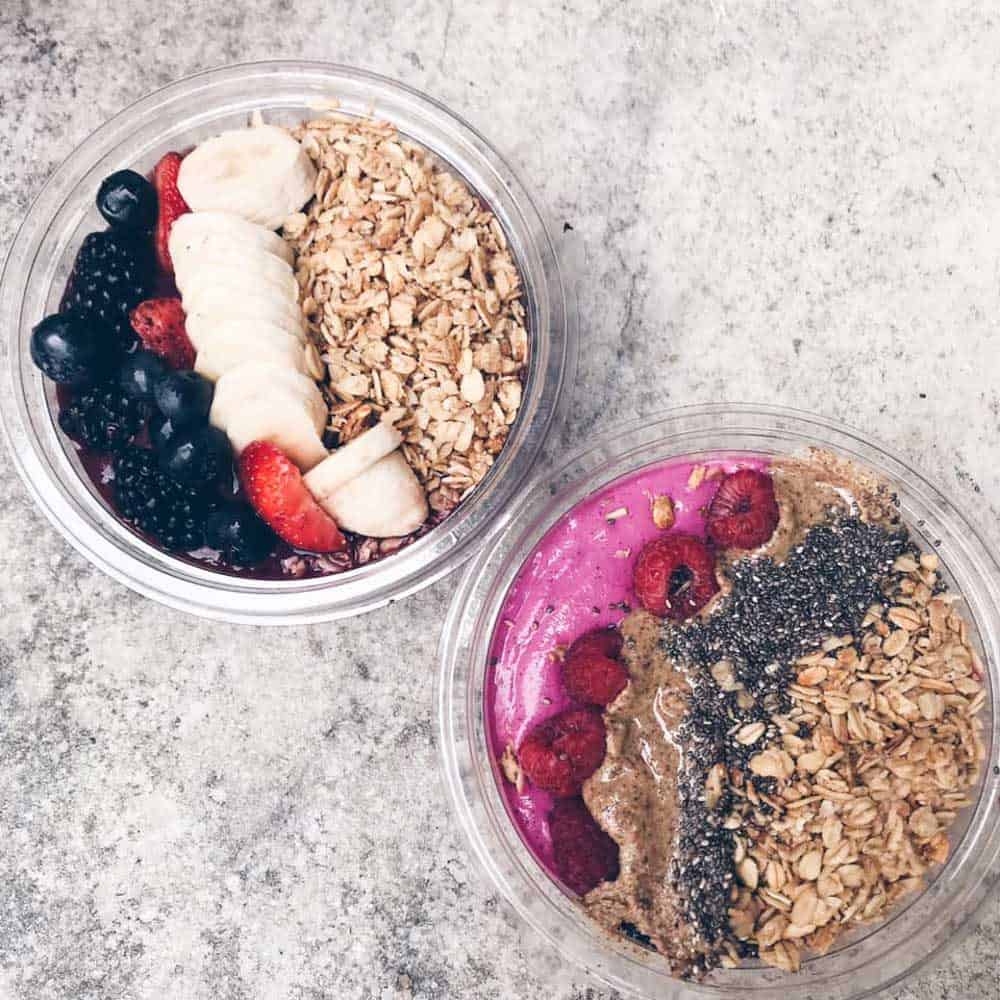 Jugos
145 Dartmouth Street, Boston, MA 02116
JUGOS is hands-down one of the best places to eat in Boston if you want a smoothie bowl. I often frequent their location on Dartmouth Street, which is right inside of Boston's South Station.
A bowl will cost you about $10, with price ranging depending on what type you choose. I highly recommend that you try out the Kai bowl, which is the bowl on the left in the picture.
It's acai (filled with strawberry, banana, raspberry, and coconut water) and topped with granola, bananas, and berries. The line at this place is normally long, so be prepared to wait. Just know that it's so worth it!
In addition to smoothie bowls, JUGOS serves a lot of other fruit-filled treats. They have smoothies, juices, fresh produce, and even coffee!
---
Lunch in Boston
Bartaco
25 Thomson Place, Boston, MA 02210
Bartaco has a great location right in Boston's newly-renovated Seaport area! It's a great restaurant to go to if you're in the mood for some tacos and cocktails. They're open daily from 11 a.m. to 10 p.m. too, so you could grab some grub there for lunch or dinner!
They serve tacos, rice bowls, and more. You're bound to find something on their menu that you love! The majority of their food ranges from $8 to $15, depending on what you order.
They also have some pretty great desserts, including churros, gelato, and key lime pie! While you're in the area, be sure to also explore the rest of the Seaport. There's really a lot to do in the area.
---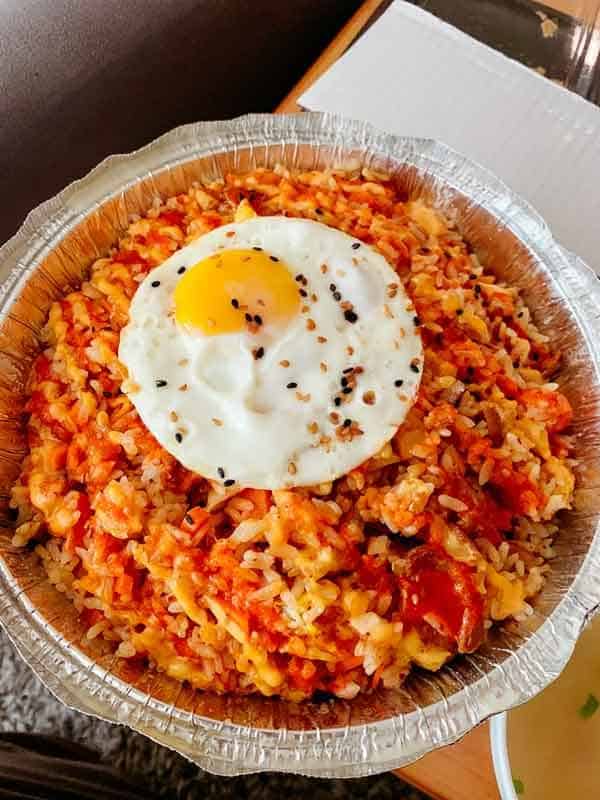 Coreanos
172 Brighton Avenue, Boston, MA 02134
Coreanos serves Korean-inspired dishes that are drool-worthy. They're located in Allston, but it's super easy to get there from Boston using public transportation. The majority of their menu costs anywhere from $5 to $15, depending on what you order.
Their menu consists of Korean fried chicken, Korean fusion dishes (like tacos and quesadillas), rice entrees, and grill entrees. They have so many delicious items on their menu that it can honestly be hard to choose! They also serve smoothies, iced teas, lemonades, and even Vietnamese cold brew iced coffees.
---
Dig Inn
557 Boylston Street, Boston, MA 02116
If you're looking for a great American restaurant that serves meals mostly made with vegetables, then Dig Inn is the restaurant for you. All of the food at Dig Inn is purchased locally too, which makes it even better. Support your local farmers!
The menu at Dig Inn changes depending on the season. They mostly serve amazing bowls and salads. Their Chicken Avocado Ranch Salad is one of my favorites and has greens, chicken, avocado, radish, carrots, cauliflower, quinoa, and ranch dressing.
They also do Build Your Own bowls if you're picky like me!
FREE TRAVEL QUIZ
Where should you travel next?
---
Gyro City
88 Peterborough Street, Boston, MA 02215
A great Greek restaurant in the Fenway neighborhood is Gyro City. They're open daily from 11 a.m. to 10 p.m., so they're great for late-night snacking in addition to a lunchtime meal! They serve salads, gyros, souvlaki, and soups, among other menu items.
They have two locations: one is in Fenway, and one is in Brighton. Their prices range from $3.99 to $19.99, depending on what you order. Be sure to try either the chicken or traditional pork gyro – they're both so good. They also have sweets including rice pudding, baklava, and Greek yogurt with honey.
---
Roxy's Grilled Cheese
485 Cambridge Street, Allston, MA 02134
Roxy's Grilled Cheese is hands-down one of the coolest Boston restaurants. They serve numerous burgers, sandwiches, and more. They have a few locations in the area and they also have a food truck that you might see out and about if you're lucky!
I recommend ordering their poutine. Though it's a side, you could totally eat it as a meal. Poutine is a Canadian dish made up of fries with gravy and cheese curds.
I'm a bit biased because the cheese curds used in Roxy's poutine are actually from a farm in my town!
They also have amazing hand-cut truffle fries. If you like the taste of truffle, you're absolutely going to love these fries. They're one of my go-to side orders whenever I go to Roxy's!
Visiting Roxy's Grilled Cheese is one thing that should be on everyone's Boston bucket list!
---
Sweetgreen
132 Brookline Ave, Boston, MA 02215
If you're a salad lover, then you're absolutely going to love Sweetgreen. They serve the best salad bowls, making them one of the coolest Boston restaurants. You can order one of the salads from their menu or you can build your own, which is what I normally do.
My go-to order is kale with quinoa, sweet potato, apple, bacon, cheese, chicken, and caesar dressing. It's so good! My friend is a huge fan of their chicken caesar salad, which is also really amazing. All of the ingredients used at Sweetgreen are local as well, so you can support your local farms when you order!
---
Dessert & Snacks in Boston
Blackbird Doughnuts
492 Tremont Street, Boston, MA 02116
Blackbird Doughnuts is one of the absolute best doughnut shops in Boston, though I may be biased. There was a location very close to my school in the Fenway neighborhood, so I frequented it!
This doughnut shop has some pretty amazing flavors too. Who would've thought that Everything Bagel would work out as a doughnut flavor? Seriously though, that's my favorite flavor so you have to order it when you visit!
Another popular order is the Boston Cream, which you absolutely must order while you're in Boston. The Ice Cream Bismarck is another one of my favorites.
---
Georgetown Cupcake
83 Newbury Street, Boston, MA 02116
The best place in Boston to grab a cupcake from is Georgetown Cupcake. Originally from DC, this cupcake joint is filled to the brim with amazing flavors. Plus, they rotate out depending on the day and time of year! You could visit every day for a week and get a different flavor from the menu.
I personally recommend trying the Red Velvet, which is one of their Everyday Classics – meaning it's always on the menu. Some of my other favorites include Salted Caramel, Coffee Cookies & Cream, Peanut Butter Fudge, and Chocolate Mint Fudge.
Each cupcake costs $3.50, or you could get 6 for $19 or a dozen for $36. Trust me, you'll want at least a half dozen!
The nice thing about the location of Georgetown Cupcake is that it's right on Newbury Street, so you can grab a cupcake while you're shopping. It's also very close to the Prudential Center.
---
Juicy Spot Cafe
16 Tyler Street, Boston, MA 02111
Juicy Spot Cafe is yet another underrated location on this list that I think deserves more recognition! This cozy little joint is most known for its rolled ice cream. They also have tons of flavors! In addition, they sell other desserts and bubble teas. I highly recommend ordering their Thai Milk Tea. It's so good!
Juicy Spot Cafe also has locations in New York City and Seattle, so if you're visiting any other US cities, definitely check them out!
The flavors offered at Juicy Spot Cafe are drool-worthy. With flavor names like Razzle Dazzle, Good Crazy Matcha, and Cookie Butter, it can be hard to choose! Here are a few of my personal favorites that I order and recommend:
Ferre-Roll Rocher – Nutella flavored ice cream with crushed wafers, hazelnuts, and Nutella drizzle
Cookies 'n Cream – Oreo flavored ice cream with chocolate wafers, Oreos, whipped cream, chocolate drizzle, and sprinkles (Note: this is a Boston-only flavor!)
Chocolate Chip Espresso – Espresso and chocolate chip cookie flavored ice cream with chocolate chip cookies, espresso grinds, whipped cream and chocolate drizzle on top
Trust me, these are worth purchasing. There are also only a few places to sit while you eat, so you might have to eat outside if you visit during a busy time.
---
Milk Bar
3 Brattle Street, Cambridge, MA 02138
If you haven't seen pictures of someone's order from Milk Bar on Instagram yet, then I think you've been living under a rock. They're known for their popular desserts and outrageous ice cream flavors. Though the flavors may sound strange, I promise they're actually pretty good!
Try ordering the Cereal Milk soft serve ice cream. Yes, you heard me right. Cereal milk. It's strangely good and tastes oddly exactly like the milk that's left in your bowl after you finish cereal. Milk Bar also serves delicious cookies, cakes, shakes, and more. Prices range from $4 to $10.
---
Modern Pastry Shop
257 Hanover Street, Boston, MA 02113
Though Mike's Pastry is normally seen as everyone's favorite pastry place, I'm here to tell you that Modern Pastry Shop is actually where it's at! It's easily one of the coolest Boston restaurants. Modern Pastry is located right across the street from Mike's and offers some amazing Italian delicacies.
They serve everything from cannolis, to tiramisu, to cookies! Trust me, there's something on the menu for everyone. There are a few places to sit and enjoy your food while you are there, and if you're lucky, you'll get one of those seats!
I recommend trying to get a seat so that you can order their hot chocolate. It's so delicious!
Keep in mind that last time I went to Modern Pastry, they were cash only. I'm not sure if that's true anymore, but just be sure to have cash on yourself when you go. Luckily, there's an ATM right down the block from their location!
Depending on the time of day that you visit, you might have to wait in line or a long while in order to get in. Trust me, it's worth it to wait because the food is so amazing!
---
Sweet Waffles & Boba
18 Hudson Street, Boston, MA 02111
Sweet Waffles & Boba is truly a hidden gem restaurant in Boston! This shop serves Belgian Liege Waffles with an abundance of toppings, and also has a bunch of amazing lemonades, teas, and other drinks! Plus, everything on their menu is super affordable.
All waffles range from $4.25 – $5.50, and their menu often changes. They have signature waffle flavors, but also constantly work to add new flavors to the menu! Here are just a few of my favorite waffle flavors:
Cookie Monster – Cookies & Cream dip with Oreos and cookie crisp for $5.50
Churro Crunch – White chocolate & Cinnamon Toast Crunch for $5.50
Strawberry Shortcake – Strawberry dip with strawberries & shortcake crunch for $5.50
As I said, they also have so many amazing drinks as well! They have green and black teas, brown sugar boba milk teas, and signature lemonades. I honestly believe that Sweet Waffles & Boba has the best Thai Milk Tea that I've ever had, and it only costs $5.25 for a large!
Another favorite of mine is the Blue Citrus Lemonade and the Raspberry Lemonade, which costs $4.50 for a small or $5.25 for a large.
Sweet Waffles & Boba is one of the coolest Boston restaurants because of their affordability and awesome waffles!
---
Dinner in Boston
B. Good
360 Longwood Avenue, Boston, MA 02215
B. Good is a restaurant chain that focuses on selling burgers, salads, bowls, and more! They have numerous locations across Boston and they're fairly affordable as well. I mainly go to eat their burgers, but my friends enjoy their other food.
If you're looking for an order recommendation, try B. Good's Power Play burger! It's topped with avocado, a fried egg, bacon, and cheddar. Trust me, it's delicious.
I also love their Apple & Bacon Bowl, which has kale, avocado, quinoa, dried cranberries, pepitas, and red wine vinaigrette. In the morning, they also have special breakfast menu options that you're sure to love!
---
Beta Burger
1437 Tremont Street, Boston, MA 02120
This burger place is truly a hidden gem. Located nearby Mission Hill, Beta Burger is one place that more people should know about! The burgers are super juicy and you get your food so quickly.
The burgers are also super affordable and you can easily add almost any topping that you want.
My experience at Beta Burger was great. I was lucky enough to meet the owner who happened to be working while I was there. It just made me like the restaurant even more because it's so nice to find owners who like to talk with their customers!
---
Boston Burger Co.
1100 Boylston Street, Boston, MA 02215
Have you ever seen those pictures on Instagram of over-the-top burgers and milkshakes? Odds are that those are photos from Boston Burger Co. This amazing burger joint is one place that I frequented during my time as a student in Boston. I recommend going to their location on Boylston Street, which is located right next to Newbury Street.
Right now, there are 30 different burger flavors on their menu. Yes, you heard that right – 30! Here are some of my personal favorites that I recommend you order:
Killer Bee – onion rings, bacon, BBQ sauce, and American cheese for $15
Mac Attack – mac & cheese and bacon for $15.50
Whiskey Tango Foxtrot – pulled pork, mac & cheese, onion rings, pickles and BBQ sauce for $16.50
The 420 – mozzarella sticks, mac & cheese, onion rings, fries, bacon, BBQ sauce, and American cheese for $16.50
Vermonster – apples, onion, bacon, maple mayonnaise, and sharp cheddar cheese for $15
In case you're confused – YES, everything listed there is ON the burger. It's not a side… the burger is literally topped with it! You definitely have to smush down the burger before you eat. Their over-the-topness with their food makes them one of the coolest Boston restaurants.
Their crazy milkshakes, called #FreakFrappes, are also worth buying These range from $10-16 and are HUGE. Seriously, you could split them with someone! I suggest trying the one called S'More Than You Can Handle, which is a frozen hot chocolate milkshake with graham cracker, chocolate sauce, and a huge s'more on top!
If you're looking for great places to eat in Boston, head here!
---
Saus
1271 Boylston Street, Boston, MA 02215
Saus is my favorite place to eat when I go downtown in Boston. It's this tiny little restaurant that you could easily miss, but it's always busy when I go! Saus serves amazing fries, sandwiches, and waffles. It's one of the fun places to eat in Boston.
They're most well known for having a whole bunch of delicious sauce flavors. They have flavors like chipotle mayo, truffle ketchup, cheddar ale, and hot beer mustard.
My go-to order at Saus is their poutine, which is absolutely scrumptious. Their fries are unlike any other fries that I've ever had. You'll definitely have to order some of their fries to at least taste some of their sauces. I recommend the cheddar ale and truffle ketchup. I try to order more than one of each sauce so that I can bring them home for later!
Trust me, Saus is one of the coolest Boston restaurants!
---
Tasty Burger
1301 Boylston Street, Boston, MA 02215
Tasty Burger is one of the most popular burger joints in Boston, and for good reason. They are a regional chain and have quite a few locations in the Boston area, but the one that I have frequented most is the one right next to Fenway Park.
Tasty Burger is open almost all the time, making it one of the coolest Boston restaurants. Yes, even at the late hours of the night when you want fried food most!
They have a variety of menu items, including burgers, hot dogs, and sandwiches. My personal favorite order is the Chicky Chicky Parm Parm, which is fried mozzarella, melted mozzarella, chicken, and tomato sauce for only $6.95. Their BBQ Onion Burger is also amazing and is topped with cheese, BBQ sauce, and fried onions for $6.50.
---
Yard House
126 Brookline Avenue, Boston, MA 02215
Yard House is one of the most popular sports bars in the Fenway area, one of the best spots for photographing Boston. I have yet to visit at a time when it wasn't busy!
If you want to avoid waiting outside, try making reservations ahead of time. If you're looking for dining that isn't fast food and you'd rather sit in a lively restaurant, this is the place to go.
My recommended order at Yard House is the [MAC + CHEESE]². It's delicious and costs about $15. They also have a multitude of other great food to order, including steaks, salads, pizzas, pasta, and more! Most dishes range from $12 – $15.
The real treat at Yard House is their desserts! You absolutely must order their baked brownies or cookies. They are absolutely amazing.
---
The coolest Boston restaurants are few and far between, but now you know them all. Where do you most want to eat? Leave a comment below!
If you're visiting Massachusetts, you're in luck! I lived in Boston for 4 years and love sharing about it. Check out more MA posts below!