13 Best Cities in Ireland to Visit in 2023 (+ some towns!)
This post may contain affiliate links, which means I'll receive a commission if you purchase through my links, at no extra cost to you. Please read full disclosure for more information.
Are you wondering what the best cities in Ireland to visit are? You're in luck! I studied abroad in Dublin and was lucky enough to travel all around the country. In this post, I've teamed up with other travelers to showcase Ireland's best places to visit.
Ireland is a great country to plan a trip to. The food is amazing, the views are great, and the people are the kindest people I've ever met in my entire life.
I absolutely love Ireland to bits, and I think it should be on everyone's travel list. I can't recommend enough that you take an Ireland holiday and visit the coolest towns in Ireland.
There are so many cities and towns in Ireland, so it can get overwhelming trying to decide where to go when you only have a limited time in the country. Below, find the best cities in Ireland to visit, in no particular order.
Best Cities in Ireland to Visit
Bray, Co. Wicklow
Bray is a gorgeous coastal town in County Wicklow. If you're staying in the Dublin area for the entirety of your time in Ireland, it makes for a really easy day trip on public transportation!
What to do in Bray
Hike the Bray Head cliff walk. While studying abroad in Ireland, I became a huge fan of doing cliff walks. They're just a whole bunch of fun and you get some of the best views ever. Plus, you're being active.
The Bray Head cliff walk is no exception! I visited on a slightly overcast day and there weren't many people along the walk at all.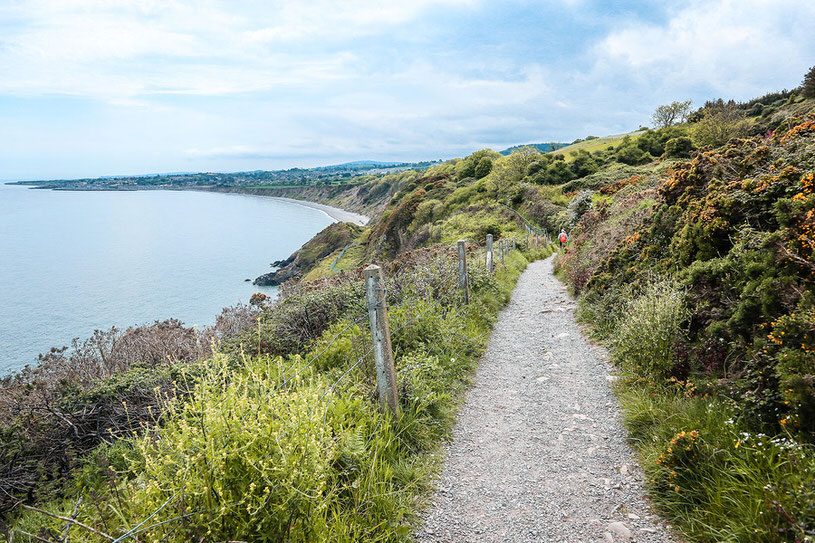 Explore Wicklow Mountains National Park. Wicklow Mountains National Park is one of the most gorgeous places in all of Ireland. If you love getting outdoors, definitely check it out!
Visit the Mermaid Arts Centre. The Mermaids Art Centre is free to visit if you're going to check out their galleries! They rotate out their second-floor exhibits.
Walk along the Promenade. My friend and I decided that when we did the Bray Head cliff walk, we'd go from Greystones to Bray instead of from Bray to Greystones because we knew we'd be greeted with prettier views this way. Boy were we right!
The Bray Promenade was our view at the end of the cliff walk, and it's gorgeous. It's Victorian style and lined with so many fun little shops and ice cream places. We even stopped to get some chips from a fish & chip shop while we soaked in the view.
Revel in the fact that Hozier is from Bray! Isn't that wild? Hozier is one of my favorite artists, and this is actually his hometown!
Bray is one of the best cities in Ireland to visit, though very underrated.
Clonakilty, Co. Cork
Clonakilty is a small town near the southern coast of Ireland. Located in West Cork, Clonakilty was actually voted the best town in the UK & Ireland in 2017! It's one of the best cities in Ireland to visit.
What to do in Clonakilty
Visit the West Cork Model Railway Village. This model village has miniature working trains that were part of the West Cork Railway Line in the 1940s and includes the towns that the trains frequented, like Kinsale, Dunmanway, and of course, Clonakilty!
Have a tour of the Clonakilty Distillery. Here you can schedule a tour of the facility along with a guided tasting of whiskey. Or, you can attend a 2-hour masterclass at the Minke Gin School, learning all there is to know about gin and even how to craft your own personal recipe!
Explore Michael Collins House, Centre, & Monument. Michael Collins was an important figure at the forefront of fighting for Irish independence. You can now visit either of the museums (the house and centre) or the monument.
Walkabout the town. What's better than walking around the town and popping into all the cute little shops? The Church of Immaculate Conception is also nice to stop in for a quick visit.
See the Blue Flag Beach at Inchydoney. This gorgeous beach is ready for splashing about! If you can manage to get good weather of course – it is Ireland, after all.
If you have the chance, Clonakilty is also a great jumping-off point for an island visit. I personally visited both Cape Clear and Sherkin Island, and really enjoyed each one.
Recommended by Kelsey from Sights Better Seen
Cobh, Co. Cork
Nestled at the end of Ireland's Ancient East discovery trail is the town of Cobh in County Cork. This beautiful town is perched on a hill overlooking Cork Harbour and has a great variety of things to do and see.
The town was formerly known as Queenstown until about 1920 and was the last port of call for many emigration ships to America, Australia, and England. It was also the last port that the Titanic picked up passengers from before departing on its ill-fated voyage.
What to Do in Cobh
For those of you interested in learning more about Titanic, you can visit the Titanic Experience Cobh on the waterfront, as well as a small commemorative garden with a view of the entrance to Cork Harbour on the far side of the town.
Guided walking tours delve deeper into the maritime history of Cobh and its connections to the Titanic and the sinking of the Lusitania off the coast in 1915.
A trip to the former prison on Spike Island, a short boat ride from Cobh, is also highly recommended. This 19th-century star-shaped fortress was, for a time, one of the largest prisons in the world and has a fascinating history.
After checking out the latest art exhibition in the Sirius Arts Centre, why not enjoy the views of the harbour from the seafront promenade? Cobh truly is one of the best cities in Ireland to visit.
Before you leave, try to get a photo of one of Cobh's most photogenic streets. West View is a row of colorful terraced houses that are stacked together on a steep hill with the impressive St. Coleman's Cathedral in the background.
Recommended by Emer and Nils from Let's Go Ireland.
Cork, Co. Cork
When it comes to the best cities in Ireland to visit, it's easy to see why Cork should be on your list. It's actually the second-largest city in Ireland, right behind Dublin! It's a lot larger than most people initially think.
Here's why you MUST visit Cork, Ireland!
What to do in Cork
As one of the best cities in Ireland to visit, there are many things to do in Cork.
Walk the grounds of Blarney Castle and kiss the Blarney Stone. Keep in mind that this is kind of a super touristy attraction!
I don't think I ran into any locals here while at Blarney Castle, except maybe the workers. It is still a super fun experience though! If you're afraid of heights, do not try to kiss the Blarney Stone.
There's also a lot more to Blarney than just the castle. You also get to peruse all of the gardens. There's so much to do here and a lot of the different areas of the grounds are amazing. I feel like so many people go, kiss the stone, and then leave. Really take your time here!
It's also easy to get from Blarney Castle to downtown Cork by bus.
Peruse the English Market. The English Market is an indoor market from the 18th Century. There are so many food stalls – trust me, you won't be able to leave without buying at least one thing to eat. The inside of the English Market is also really gorgeous! It seemed really well-kept to me when I visited.
Walk around University College Cork. UCC has a gorgeous campus. What more is there to say? If I hadn't studied in Dublin, I probably would've tried to study in Cork!
Stroll St. Patrick's Street. St. Patrick's Street is Cork's Grafton Street. It's where all the shopping happens! Even if you don't buy anything, it's fun to stroll down a city's high streets and people watch and just pop into stores.
Dingle, Co. Kerry
Dingle is the most Southwestern of Ireland's towns and is one of the best cities in Ireland to visit. While it may seem a bit out of the way, it's worth it to come down to one of Ireland's most beautiful seaside towns.
What to do in Dingle
The most important thing to do while in Dingle is to complete the Slea Head Drive on the Dingle peninsula. While you can complete the circuit by car in just a few hours, give yourself at least a half-day to get out and enjoy the sites and scenic views along the way!
Next, you will want to go on a Dingle Dolphin tour. Fungie the Dingle Dolphin moved into the waters off the shore of the town over thirty years ago. He loves to make an appearance on tour boats. You even get your money back if you don't see him on your tour!
Like any good Irish town, you will want to enjoy some of the local Irish pubs. Dick Mack's is famous, though you can find Guinness and traditional Irish music at almost any pub in town.
If you love Irish whiskey, make sure to go on a Dingle Distillery tour where you can learn all about the history of Irish whiskey and get to taste some of the local wares!
Finally, if you love to shop, explore the town's artisanal cheese shops, wool shops, and bookstores. Dingle is a great place to look for Irish souvenirs!
Recommended by Stephanie from History Fangirl.
Doolin, Co. Clare
Doolin, Ireland is a small coastal town in County Clare and is one of the best cities in Ireland to visit. It's an excellent place to base yourself to explore many Irish bucket list destinations including the Cliffs of Moher, the Aran Islands, and Burren National Park.
Doolin is also the home of traditional Irish music played in the pubs any night of the week.
What to Do in Doolin
One of the best things to do in Doolin is take the coastal walk from Doolin to the Cliffs of Moher. It takes about 2 hours one way and will allow you to experience the Cliffs of Moher without all the crowds. Bonus if it's a clear day and you can time it for sunset, it's stunning!
Once you're done with the cliff walk, take Bus Eireean back to the center of Doolin, where there is an excellent fudge shop and a popular pub, Gus O'Connor's.
There are 4 pubs in Doolin, McGann's is my favorite, but find out where Blackie O'Connell and/or Eoghan Neff are playing that night. Blackie plays the uilleann pipes, and Eoghan Neff is a fiddle player. He's next-level Ed Sheeran, using a machine to layer sounds to create a full song – fantastic.
Be careful with how much Guinness or whiskey you indulge in at the pub because you can take a 20-minute ferry to the smallest Aran Island, Inisheer, for a day trip. There you can rent a bike to visit all of the best points on this small rural island, including a shipwreck!
If you have time, spend a day doing one of the many walks in the Burren National Park. This limestone landscape starkly contrasts the lush green Irish fields you're used to, but it's equally as stunning, especially in the spring when flowers pop up through the limestone cracks.
Doolin may be a small town, but there is so much to do here you could easily spend a few days exploring this gorgeous part of Ireland.
Recommended by Katie from Just Chasing Sunsets.
Dublin, Co. Dublin
There is obviously so much to do in beautiful Dublin Ireland, and it's one of the most beautiful cities in the world! It's definitely a city that you need to spend more than 48 hours in, but if you're ever there for a short period of time, there are a few things I definitely recommend seeing.
What to do in Dublin
Eat all of the food. I personally think that there's so much great food in Dublin. Try all the local dishes you can – from boxty to a traditional Irish breakfast to Irish stew! Be sure to get yourself a pint of Guinness too.
Visit Trinity College Dublin. Trinity College is a must-visit in Dublin, especially if you're looking to see the Book of Kells. I suggest buying your Book of Kells ticket ahead of time online because it can get quite busy!
Really take your time at this exhibit, too – it's totally worth it. You can also wander around the gorgeous campus a little bit too!
Shop on Grafton Street. There are so many fantastic stores on Grafton Street and even outstanding performers. I can't even tell you the number of times I've grabbed a gelato or a crepe and just stood and listened to whoever was playing for a half-hour.
Peruse the Temple Bar area. Yes, the Temple Bar area can be quite touristy. Don't let that stop you! I still think it's worth seeing while you're in Dublin.
Keep in mind that it definitely gets a lot busier at night. If you're looking to actually get a drink at the Temple Bar Pub, I'd suggest going earlier in the day just to say you've done it, and then try going to another pub at night.
One of the ones I found myself always going back to was Quay's, conveniently located near the Temple Bar Pub. There are also a lot more local options that will probably be more affordable around Dublin.
Experience the Guinness Storehouse. The Guinness Storehouse is actually the #1 most-visited Irish tourist attraction. Isn't that crazy? I'm here to tell you that it is with good reason! The entire museum itself is so interactive, and it has 5+ floors to explore.
There's even a tasting room where you're taught how to drink Guinness correctly! Plus, you get a free pint at the Gravity Bar on the top floor, where you're greeted with panoramic views of the entire city.
Take a stroll in St. Stephen's Green. While studying abroad in Dublin, I constantly returned to St. Stephen's Green. It's such a beautiful park.
It's fun even to grab some food on Grafton Street and then sit in the park while you eat! There are so many little areas that you can sit in the park too.
If you're looking for more awesome things to do in this amazing city, check out this post on 50 Unique Things to Do in Dublin!
Galway, Co. Galway
Ah, Galway, the place Ed Sheeran sang about in "Galway Girl". Galway is always one of the top destinations people want to visit in Ireland, and I don't blame them!
What to do in Galway
Visit the Cliffs of Moher. The Cliffs of Moher are only 1.5 hours away from Galway, and they are accessible by public transport. You could even rent a car to make the trip if you wanted, or you could make a day tour trip where you could see even more awesome views.
The Cliffs of Moher, though touristy, are definitely worth the visit. The views are amazing. Just don't get too close to the edge!
Explore the Latin Quarter. The Latin Quarter is an area in Galway filled with cobblestone streets. I might be completely wrong in saying this, but it reminds me of the Temple Bar area in Dublin. It's a lovely area.
Walk down Quay Street. Quay Street is definitely one of Galway's busier streets, but the buildings are so pretty. I definitely suggest walking down here. It's also home to one of Galway's most famous pubs, The Quays.
Look at Lynch's Castle. This castle is one of the original castles that were in Galway long ago. It has now been converted into a bank! It's fun to look at from the inside. I'm sure you could even go in, too, if you really wanted to!
Snap a photo of picturesque Galway Harbor. The harbor is definitely the quintessential "I went to Galway" photo that everyone has. There's a reason everyone goes here. It's so beautiful!
Still looking for more to do in Galway? Be sure to check out this post on the 20 Best Things to do in Galway, Ireland.
Howth, Co. Fingal
Howth is an absolutely beautiful coastal town just north of Dublin and one of Ireland's best cities to visit. To this day, it's one of my favorite places that I visited! Plus, it's super easy to get there from Dublin, and vice versa.
What to do in Howth
Walk the Howth coastal cliff walk. The Howth coastal cliff walk is just fantastic. I don't know how else to describe its beauty.
The water is this amazing blue color that I've never seen before, and everywhere you look, there's more amazing scenery.
The walk can take anywhere from 1 – 3 hours, depending on which route you decide to take and whether you choose to loop around or not.
My friend and I took the easier route but tried coming back on a harder route just so that our views would be a little different.
Grab some food at Howth Market. Howth Market is a pretty little market down near the Harbor.
There are some great places to eat here. I couldn't help myself and got some gelato since it was so hot the day I was there! There's also a lot of actual lunch food as well.
Stare at the beauty of Howth Harbor. It's a lot of fun to just sit and people-watch by Howth Harbor. There's a lot of hustle and bustle and you can see all the beautiful boats.
A lot of seafood restaurants are along Howth Harbor, so if you're feeling up to it, you could even sit outside at one of these restaurants and people-watch that way!
Dip your toes into Balscadden Bay Beach. Balscadden Bay Beach is a cute little beach a short walk from Howth Harbor. It's also on the way up to the cliff walk. It is a pretty rocky beach, so keep that in mind. It wouldn't stop me from at least dipping my toes in!
Killarney, Co. Kerry
Killarney is super beautiful, and it's even an easy day trip away from Dublin. It's 100% worth visiting and exploring as one of the best cities in Ireland to visit, and I think you could easily spend a week here, or even more. There's a lot to see!
What to do in Killarney
Explore Killarney National Park. The town of Killarney itself is in Killarney National Park, and the views everywhere are exceptional. If you're lucky enough to rent a car in Ireland or own one, go out and drive around.
There are amazing viewpoints everywhere. One such viewpoint that I suggest is Aghadoe Heights, which gives you a beautiful water and mountain view.
Check out Torc Waterfall. Torc Waterfall is probably one of the most-visited parts of Killarney National Park. It's a very short hike up from the parking area, and you may find it overcrowded if you're there during midday, but you can also keep hiking up the trail if you please. The waterfall itself is 66 feet high and is a sight to behold.
Visit Muckross House, a Victorian mansion from the 19th Century. It was designed by Scottish architect William Burn for Henry Arthur Herbert and his family. Queen Victoria even visited Muckross House in the 1860s and instantly fell in love with Killarney.
Supposedly, the Herberts redid much of the house before Queen Victoria came, even positioning her room with the best park view from her window!
Walk around downtown Killarney! Killarney is my favorite Irish town. There's just something about it that makes it so different from other Irish towns I've visited. It just feels so homey and comforting. It's hard to describe!
The buildings are extremely beautiful and clean too. Plus, the locals are really friendly! Though of course, the locals are friendly no matter where you are in Ireland.
Drive the Ring of Kerry. This road trip is one of the most famous drives in Ireland. If you rent a car during your visit to Ireland, this is one of the most scenic road trips! Killarney is such a great place to start this drive.
Limerick, Co. Limerick
There are several things to do in Limerick, Ireland. Located in the Southern part of the country, it is close to some of Ireland's best attractions such as Cliffs of Moher, Ring of Kerry, and Wild Atlantic Way, which is why it's one of the best cities in Ireland to visit.
The city itself is known for its charming old town from medieval era, Georgian townhouses, hidden gardens, museums, bustling pub scene, and medieval castles.
What To Do In Limerick
The Limerick Museum is a city museum that showcases over 60,000 artifacts gathered from generous donations, purchases, and long-term loans from donors.
Some of the several interesting collections in the Limerick Museum include a mummified cat found in the street in the 1890s, World War II gas masks, and a fragment of the largest meteorite that fell in Ireland in 1813.
The Foynes Flying Boat and Maritime Museum is the only flying boat museum in the world and it holds some of the most interesting aviation artifacts in the 30s and 40s. It is also said to be the home of the world-famous Irish Coffee.
According to the story, a flight left Foynes one stormy night for New York, but the pilot decided to return to ensure the safety of the passengers.
Joe Sheridan who was the chef in the coffee shop and restaurant owned by Brendan O'Regan, an Irish restaurateur in Foynes Terminal Building, decided to prepare warm drinks for the cold passengers.
He added whiskey to the coffee for the passengers to enjoy, and when one passenger asked him if the coffee is from Brazilian beans, Chef Joe joked, "No, it's an Irish coffee."
St. John Castle is one of the best-preserved Norman castles in Europe. It was built in 1200 through the order of King John of England. Located next to River Shannon, the castle overlooks the river and the panoramic view of the city of Limerick. The castle features strong fortifications, towers, and moat walls.
The castle was heavily damaged once during the infamous Siege of Limerick in the 17th century and has since then witnessed several important events in Irish history.
Thomond Park is a popular stadium in Limerick. It is home to one of the most successful rugby teams in the world – Munster Rugby. It also has the Shannon RFC, the most successful club in the All Ireland League, and UL Bohemian RFC as tenants. The stadium has over 25,000 seat capacity.
The stadium offers a full tour that consists of a museum visit, film, and visits to the pitching side, the Munster dugout, dressings rooms, and the post-match interview area.
The Bishop's Palace was once a home for the former Protestant Bishops of Limerick. It is located adjacent to King John's Castle and it's a good example of English palaces in Palladian style. It is now currently an office for Limerick Civic Trust, and they offer exhibitions for tourists.
The exhibitions in the palace offer a great insight into the social and political history of the city from the 1700s to the 1920s.
Limerick is recommended by Christine Rogador from Ireland Travel Guides.
Waterford, Co. Waterford
Waterford is the oldest city on the east side of the Irish island. It is located on the banks of the River Suir. It is also at the head of Waterford Harbor. The Vikings founded the city in the early 10th century.
This is a very interesting city to visit and offers a lot to see.
What to Do in Waterford
The Viking Triangle is the place where most of the sights of this city full of interesting history behind the Viking walls are located. From Reginald's Tower, through the Bishop's Palace, all the way to the Medieval Museum and the House of Crystals Waterford.
The House of Crystal Waterford is part of the rich history of Waterford. The very name of the city sounds familiar to us precisely because of the finest glass, Waterford crystal.
The company has been operating since 1783, until 2009, when it went bankrupt. The city reacted in 2010 and did not allow history to be forgotten. Then production started again.
The symbol of this city is the Reginald Tower and the oldest building in Waterford. The tower was part of the Viking fortress, and in addition to the defense, it also served as a military warehouse and is now a museum.
Waterford Greenway is a hiking and biking trail that stretches along the old railroad tracks. It is 46km long and crosses over 11 bridges, several viaducts, and offers a beautiful view of the Comeragh Mountains and Dungarvan Bay. So if you are a nature lover, this is the right tour for you.
Recommended by Mark from Vogatech
Wexford, Co. Wexford
Located 2 hours southeast of Dublin, Wexford is reachable by car, bus, or train. The journey from Dublin takes about two hours and
What to Do in Wexford
The Irish county is known for its amazing strawberry farms, its amazing landscape, and the birthplace of Halloween and the Guinness World Record Book.
The beaches are among the most visited places in Ireland, as Wexford is also the warmest region in the country. If you're visiting in October, you'll get a chance to enjoy a show at the annual Wexford Opera.
Nature enthusiasts can rejoice as Wexford has thousands of acres of parks and gardens, including the historic Wells House, 11th century Johnstown Castle and Gardens, and John F. Kennedy Memorial Park & Arboretum.
When in Wexford, take a scenic drive to Hook Peninsula where you will find Hook Lighthouse – the world's second-oldest working lighthouse that is still operating to date and the Loftus Hall – Ireland's most famous haunted house, a popular attraction during Halloween.
Along the way, stop at the Tacumshane Windmill, the only remaining windmill in Ireland from 1846 with a revolving straw-thatched cap to catch the wind for its sails.
Recommended by Lerato from Life From a Bag.
Final Thoughts: Best Cities in Ireland to Visit
Which of the best cities in Ireland to visit do you most want to see?
Don't forget to pin this post and share it for later.
Frequently Asked Questions about Irish Cities
Why is Ireland so beautiful?
There are a number of reasons why Ireland is considered to be one of the most beautiful countries in the world.
First, Ireland has a very diverse landscape, with everything from rugged coastline to rolling green hills.
Second, Ireland is home to a number of picturesque villages and towns, which add to the country's overall charm.
Finally, the people of Ireland are warm and friendly, adding to the sense that Ireland is a truly special place.
What is there to do in Ireland?
There are plenty of things to do in Ireland, whether you're looking for adventure, culture, or just a chance to relax. Here are some ideas to get you started:
Take a hike through the stunning Irish countryside.
Visit Dublin and explore its many historical landmarks and museums.
Go fishing in one of Ireland's many rivers or lakes.
Play a round of golf on one of the country's world-famous courses.
Sample some of the local cuisine, including Ireland's famous Guinness stout.
Whatever you decide to do, you're sure to have a memorable experience in Ireland.
What city in Ireland is best to visit?
There is no definitive answer to this question, as there are many wonderful cities throughout Ireland that offer unique experiences.
However, some of the most popular tourist destinations in Ireland include Dublin, Cork, Galway, and Belfast. Each of these cities has something different to offer visitors, so it really depends on what you are looking for in a city.
What is the most beautiful part of Ireland?
There are many beautiful parts of Ireland, but the most stunning scenery can be found in the southwest region known as the Wild Atlantic Way.
This stretch of coastline features some of the most picturesque views in all of Ireland, with towering cliffs, pristine beaches, and crystal-clear waters.
What is the prettiest county in Ireland?
The prettiest county in Ireland would have to be Wicklow. It is often called the Garden of Ireland because of its lush and green landscape.
The Wicklow Mountains make up a large part of the county and there are also many pretty towns and villages to explore. If you are looking for a place to relax and enjoy the outdoors, then Wicklow is the perfect place for you.
Why go to Ireland?
There are many reasons to visit Ireland. The Emerald Isle is home to some of the most stunning scenery in the world, as well as a rich culture and history.
Ireland is also a great place to enjoy outdoor activities like hiking, biking, and golfing. And of course, let's not forget the food and drink!
If you're planning a trip to Ireland, you're in luck! I studied abroad there and have tons of Ireland posts. Explore them below!