How to Hike to Lake Haiyaha Rocky Mountain National Park (2023)
This post may contain affiliate links, which means I'll receive a commission if you purchase through my links, at no extra cost to you. Please read full disclosure for more information.
If you're wondering how to get to Lake Haiyaha, one of the most beautiful lakes in Rocky Mountain National Park, you're in luck. This guide is for Lake Haiyaha Rocky Mountain National Park, created by a local in Denver who visits the park often!
Whether you've never visited Rocky Mountain before or you go there frequently, you should know that Lake Haiyaha is truly one of the hidden gems in the park. In fact, this trail is significantly quieter than the Emerald Lake Trail, even though half of this trail is combined with that one.
Here's how to hike to Lake Haiyaha Rocky Mountain National Park!
🌟 Save money on USA National Parks & purchase your America the Beautiful Pass Here! 🌟
Before hiking, make sure you have these essentials:

🎒 Hiking backpack: Here's the one we use & love!
💧 Water bladder: This is the water bladder we recommend!
💦 Water bottle: We love and use the Hydroflask 32 oz!
🥾 Hiking boots: These are the hiking boots we use!
🩹 First aid kit: This is a great first aid kit for your backpack!
🥨 Snacks: Clif Bars are our go-to on the trail!
🌲 Hiking poles: These hiking poles are a great option!
❄️ Microspikes: These are the ones we use when the trails are icy!
☀️ Sunscreen: This is a great hiking sunscreen!
Where is the Lake Haiyaha Trail?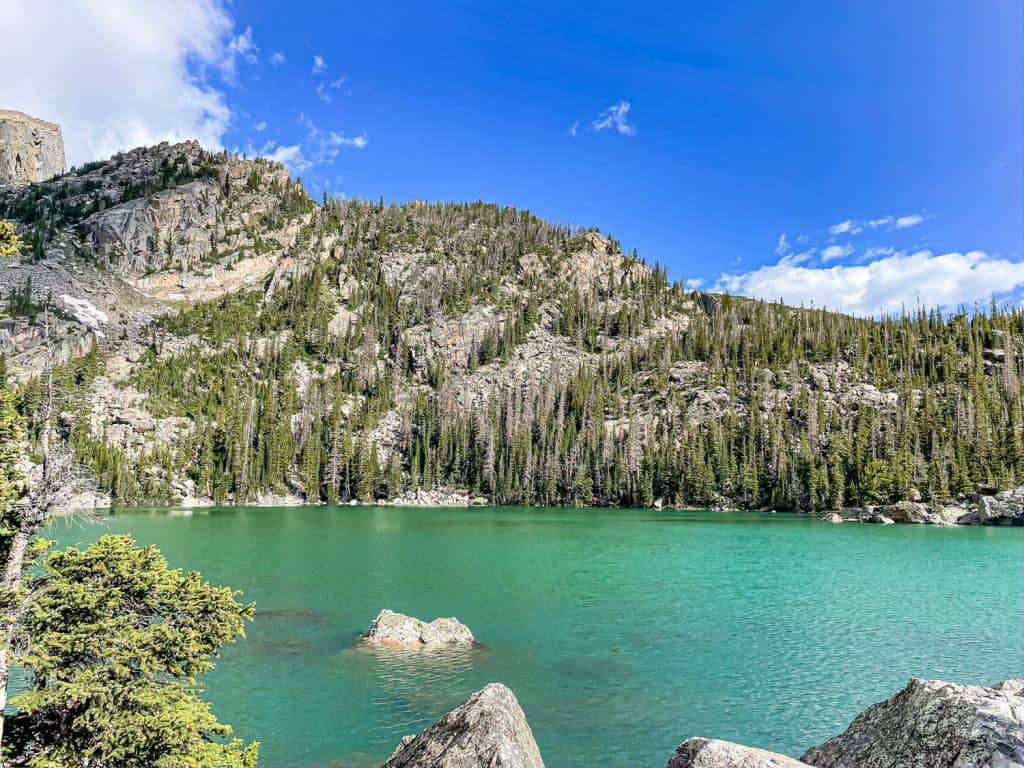 In order to hike Lake Haiyaha Rocky Mountain National Park, you obviously have to know where the trailhead is! It's at the Bear Lake trailhead, which is easily accessed from Estes Park via the Beaver Meadows entrance. You can definitely get here from other entrances as well, but that one is the closest to the trailhead.
Because it's at the Bear Lake trailhead, there are tons of other hikes right in the area, including up to Alberta Falls and Emerald Lake, which are two of the very popular hikes in Rocky Mountain National Park. So, you'll want to plan wisely and get to the trail early in the morning.
I most recently did this trail on July 4, 2022, and we got there at 4:30 a.m. There were still a decent amount of spots left to park near the Bear Lake trailhead, but truthfully, it was almost full by the time we had watched the sunrise and started the hike around 5:30 a.m.
You can go ahead and get a Timed Entry pass if you're not a morning person, but again, it's better the earlier you can get pass. Passes are not needed if you enter before the timed entry reservation system starts each day, which is what many locals will do to enter the park.
If you get there and the parking lot is already full, then you'll want to park in the shuttle parking lot to rely on the bus to get you up to the trailhead. Note that the lines for this shuttle can be fairly long, so be prepared to stand for a while!
My best advice is to just get there super early like I did; you'll beat the crowds, the weather is cooler, and catching the sunrise over Bear Lake (or even any of the other lakes along the way) is truly an unforgettable experience.
All About the Lake Haiyaha Trail
To hike to Lake Haiyaha Rocky Mountain National Park, you'll want to know all about the trail to best prepare yourself for what you'll encounter along the way!
The Lake Haiyaha trail starts right by the popular Bear Lake. While you can add some extra trekking by going all the way around Bear Lake, it's not necessary. However, it's definitely worth it to take the short detour over to the lake to check out the view before going along the rest of the trail.
It's recommended to do this before you start the trail because when you come back down from the lake, it'll most likely be bombarded with people. This is one of the more accessible spots in the park, and it's very family-friendly, so many people stop by Bear Lake, and it's always busy except in the super early morning.
The trail immediately starts to go uphill as you gain some elevation on the way to the second lake you'll see along the way: Nymph Lake. Now, this may be controversial, but Nymph Lake is a truly underrated lake. It's more of a traditional lake and is nowhere near the beauty of other lakes along the trail, but it's still worth stopping and checking out.
If you need a quick break, this lake does have a few log seats around it where you can take in the view or have a quick granola bar if needed. In the early morning, it's easy to get a reflection photo in the lake like I did!
The views start to get even better as you continue along the trail. Right when the trail splits off the Emerald Lake Trail, you'll be able to stop and take in the view of Dream Lake. This is a truly breathtaking lake, and it's rather large in size with views of trees and the mountains in the background.
If you want to make the trail longer, continue along past Dream Lake to the right and head up to Emerald Lake if you want to. This is one of the most popular trails in Colorado, and if you do want to see Emerald Lake along the way, it's better to see it on the way up to Lake Haiyaha instead of on the way back. It gets really busy as the day goes on!
Next comes the trek up to Lake Haiyaha! This is when you'll really get to be in Rocky Mountain National Park. The hike immediately gains lots of elevation as you'll begin to hike switchbacks through the forest.
Note that the trail does get a lot skinnier at this point and there are some drop-offs. If you're not a fan of heights, you'll want to prepare yourself for this!
Luckily, the majority of the trail is fairly calming because there are barely any people on this trail. There weren't that many who passed us, and we were hiking in the early morning in July!
After hiking the switchbacks, you'll walk around a giant boulder as you hike along the edge of a mountain that eventually leads to a flat forested area. You'll cross a river using a fun wooden bridge as you continue along your trek. It does start to flatten out after the initial switchbacks and gets a bit easier!
Finally, after walking over a bunch of boulders (be super careful with those boulders – they can be slippery), you'll get to see Lake Haiyaha! This is a rugged landscape, and it can be hard to find a spot to enjoy the view. My best advice is just to find one of the flatter rocks and sit there while you take it all in.
Unlike some of the other lakes along the trail, there are no benches here. You truly do have just to be super careful as you make your way around the boulders to find a place to sit.
What to Pack to Hike Lake Haiyaha Rocky Mountain National Park
Just like with other hikes, there are some items that you'll for sure want to make sure you pack. Here are some of the must-bring items!
First, this is not a hike that you'll want to do while wearing sneakers. Please invest in a pair of hiking boots; they'll come in handy and will protect your feet and ankles. I personally use a pair from North Face that I love. These are a similar pair in women's, and here are a pair in men's. These are just like the ones I use and love!
Depending on the type of hiker you are, you may want to bring hiking poles. There are many different types you can purchase, but here's a great pair worth checking out! They can also be purchased at many outdoor shops like REI.
Because this hike has so much elevation, you'll want to be sure to bring water. You can bring one of the classic hiking ones that you can stick in your backpack, but we personally love the 32 oz Hydroflask bottles. They keep your water extremely cold!
To hold your water, be sure to invest in a good hiking pack. We did a lot of research before purchasing one and ended up choosing the 30L backpacks from Eddie Bauer, and we are obsessed. It also has a spot to slip a water holder inside if you want one!
In your bag, be sure to bring lots of snacks. You'll definitely need to refuel and recharge along the way. The Eddie Bauer pack has lots of room to put snacks inside!
Organize your hiking with our
Notion Hiking Planner!
Elevate your hikes with the Notion Hiking Planner; map your routes, track your hiking expenses, and capture your trail experience all in one hub. Plan, collaborate, and relive your adventures effortlessly with this ultimate tool for organized exploration.
Final Thoughts: Lake Haiyaha Trail in RMNP
Once you're done hiking up to Lake Haiyaha Rocky Mountain National Park, consider heading out and exploring the beauty of Estes Park. This is a charming mountain town with fun activities, like shopping downtown, heading to an alpine coaster with great views, or even riding a funicular!
There are also many great restaurants in downtown Estes Park so you can grab a meal after your hike.
Other fun activities after hiking include driving Trail Ridge Road (an absolute must, especially if you are visiting for the first time), stopping by the Visitor Centers, or doing another hike in the area.
This post was all about hiking Lake Haiyaha Rocky Mountain National Park! Have you done this hike? Leave a comment below!