22 Best Restaurants in London England for Food-Lovers (2023)
This post may contain affiliate links, which means I'll receive a commission if you purchase through my links, at no extra cost to you. Please read full disclosure for more information.
Did you know that London is one of the major foodie cities in the world? There are so many amazing places to eat, that it can be hard to weed out which places are actually the best restaurants in London.
Let this serve as the ultimate guide to help you decide where to eat in London!
Don't forget to check out some of the best cafes in London too during your visit!
Woohoo, you're planning a trip to London! Here are some of our top recommendations.
Best Hotels in London
Best Guided Tours in London
Transportation in London
---
Annie's
162 Thames Rd, Chiswick, London W4 3QS, United Kingdom
A bracing morning walk on the path by the Thames River at Chiswick, near Kew bridge, will get you ready for the quintessential English breakfast – the "Full Monty" at Annie's: fried free-range eggs, sausage, bacon, black pudding, roast tomato, baked beans, home fries, mushrooms, and sourdough toast.
Parking is easy on Thames Road where Annie's is located, and Kew Bridge tube station is not far. The cosy rooms at Annie's are a charming mix of exposed brick, bright coloured cushions, stylish mirrors, and chandeliers. There's outdoor seating too!
There are other breakfast options, notably American buttermilk pancakes, eggs benedict, oak-smoked Scottish salmon, and scrambled eggs with whole-wheat toast.
And wait! There are interesting choices for lunch – tasty salads, pork chops, traditional battered haddock and chips, and great burgers, including a vegan burger. You can have a few well-crafted cocktails before dinner.
Thankfully, Annie's is not pricey – at par with any café on Chiswick High Street and a whole lot nicer. Check it out!
Recommended by Jan from Leisurely Drives.
---
Balans Soho Society
60-62 Old Compton St, Soho, London W1D 4UG, United Kingdom and other locations
One of the best places to eat in London is the Balans Soho Society. The original location is in the middle of Soho, and the gay London restaurant is a must-visit.
The iconic establishment is open almost 24 hours a day so it's a perfect place for late-night food or any of your daily meals. Because of its disco hours and location among the nightlife of Soho, the Balans Soho Society has a reputation as the place to see and be seen.
If you visit Balans for dinner you can expect to pay about £15 for the mains, but they have lighter fare and small plates for £10 and under. This makes it an affordable food option for London's West End and explains the popularity of the restaurant. Balans is well-known for their infamous Balans Burgers but if you want a lighter option or a vegetarian meal the cauliflower risotto is incredible.
At almost any time of day, you'll find a great meal at Balans Soho Society, but it's a good idea to reserve a table before you pay them a visit. There are several locations around London, but the Soho location on Old Compton Street is the best and it's easily reached from the Piccadilly Circus tube station or Leicester Square.
Recommended by Derek and Mike from Robe Society.
---
Black & Blue Restaurant
1-2 Rochester Walk, London SE1 9AF, United Kingdom and other locations around London
Black and Blue Restaurant in Borough Market is a restaurant located in one of the most iconic areas of London. Juxtaposed between London landmarks of Tower Bridge, Southwark Cathedral, and the Shard, this is a great place to eat when you are sightseeing in the area.
Black and Blue is a 10-minute walk from London Bridge Train Station and offers an extensive menu from steaks and burgers to salads and curries all cooked to perfection.
The service is great, and the décor of the restaurant is lovely, consisting of both booths and tables on a lower or upper mezzanine.
Prices are in the mid-range depending on your choice – steaks being at the upper end of the scale. A popular dish is the Feta, Avocado, and Pomegranate Salad – absolutely delicious.
Black and Blue is positioned at the start of The Best London Walk from Tower Bridge to Westminster Bridge and so after you have enjoyed your meal, and maybe a few cocktails, you can continue to explore this historic area of London with a stroll along the River Thames.
Recommended by Angela from Where Angie Wanders.
---
Bombay Brasserie
Gloucester Road Tube, London Courtfield Road, Opposite, London SW7 4QH, United Kingdom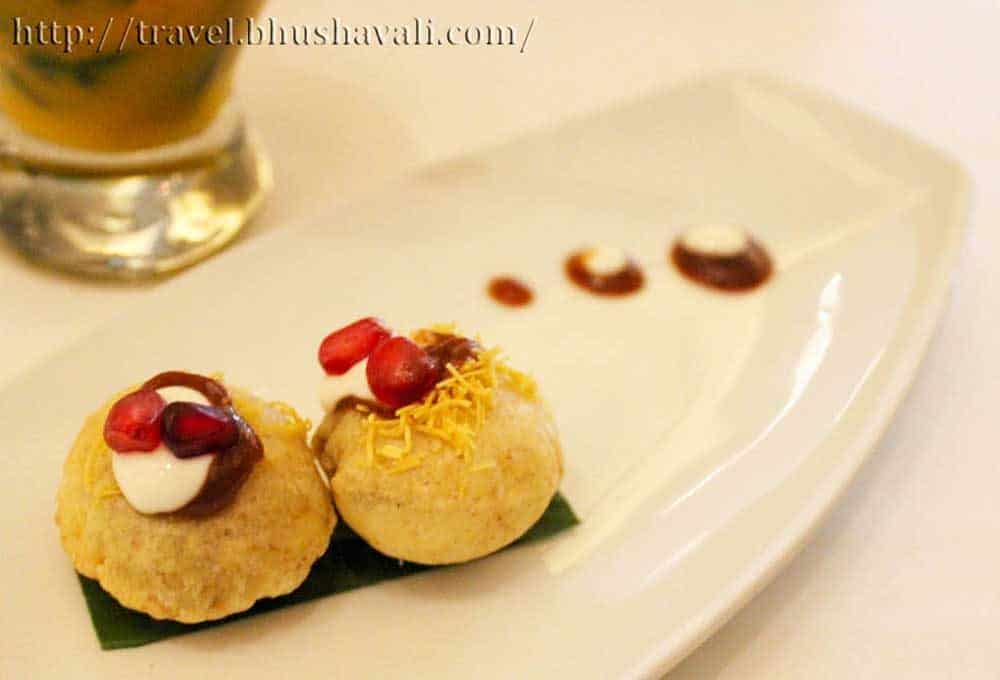 Bombay Brasserie is one of the best Indian restaurants in London. It belongs to the Taj Group of Hotels, which is one of the high-end, luxury chains of hotels & restaurants in India. They also have several branches all over the world and one of those is in London at Gloucester.
While A-la-carte & set menu is available, the best option here is the tasting menu. It has a list of 4-5 starters, 6-7 main-course dishes followed by 2-3 desserts plus a drink. Everything is in a very small portion and it's the best way to experience a wide range of dishes filled with such tongue-tingling flavours.
The chef caters to individual needs very well and the spice level is altered according to the diner's wishes, as well as diet restrictions including vegan, vegetarian, gluten-free, etc.
The whole setting of the restaurant is obviously very Bombay (Mumbai) inspired with photos & décor from authentic Marathi culture, including photos of Marathi Royalty. Reservation is a must on Fridays and weekends. The tasting menu begins at £48. It is located just beside Gloucester Road tube station and is a short walk from Kensington Palace and Royal Albert Hall.
Recommended by Bhushavali from My Travelogue by Bhushavali.
---
Coppa Club
3 Three Quays Walk, Lower Thames St, Tower, London EC3R 6AH, United Kingdom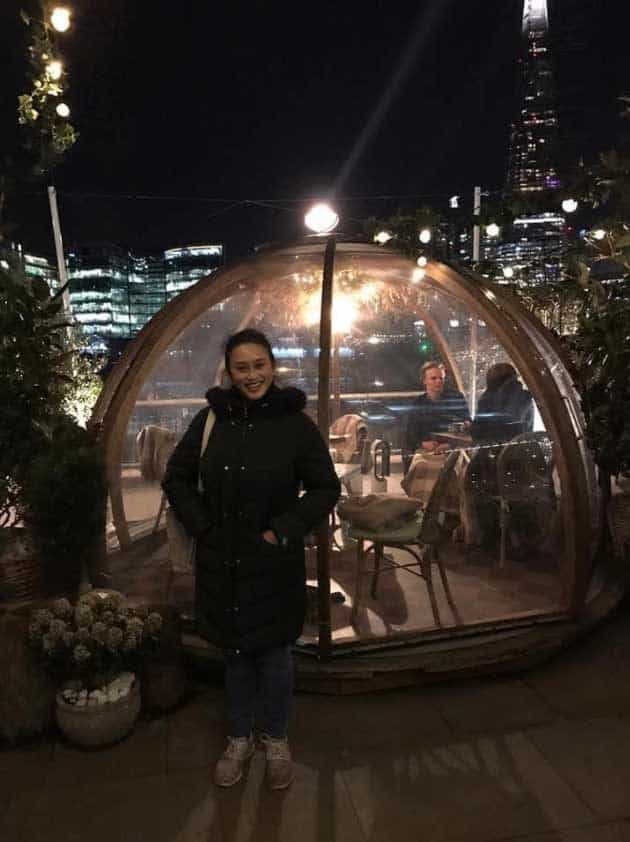 Coppa Club Tower Bridge is set in the heart of London. Situated by the River Thames, The Shard, Tower Bridge and Tower of London, Coppa Club Tower Bridge is in a great location.
Coppa Club Tower Bridge serves general European/Italian dishes including pizza, pasta, salad, wines, and cocktails. On the website, it stated that you'd get a quiet atmosphere, but during dinner, it was crowded with people. If you like crowds, then this place is for you.
Opened in 2016, it has been a popular place to eat in London. It seems overrated because it's promoted well on social media. It's well known for its igloos and you'd have to reserve 3 – 6 months in advance, especially at Christmas. From the outside, the igloos look stunning. The igloos are Instagram-worthy.
Although you had to shout to be heard and felt like you had to wait hours, the service here is excellent. Twenty minutes and your food is on your table. The waiter knew the menu and the price is an average London price of around £10 – £15.
My food recommendation is the Coppa Club Hot pizza and sweet rose with grapefruit aromas – it's great with seafood and tapas. The bottle of rose is £25.
Recommended by Annisa from London Travellers.
---
Dinner By Heston Blumenthal
66 Knightsbridge, London SW1X 7LA, United Kingdom
If one was to think of the leading chefs in the UK, the name Heston Blumenthal will inevitably come to mind. Heston's most famous restaurant, The Fat Duck, is located in Berkshire and is one of five restaurants in Great Britain to have three Michelin stars.
Naturally, this comes with a very pricey menu and can also take months to get a table. That doesn't mean travellers coming to London are unable to sample some of the food creations of this celebrity chef!
Located inside the Mandarin Oriental in upmarket Knightsbridge lies Dinner by Heston Blumenthal. Whilst this restaurant 'only' has one Michelin star, it is within Central London, just outside the Knightsbridge tube station.
The menu is based on historic British gastronomy and is deliciously moorish. In addition to being more centrally located, it also comes with a slightly lower price tag than the Fat Duck.
The dishes are quirky, playful, and adventurous and showcase some of Britain's finest. 'Meat Fruit' is probably the most well-known dish on the menu. This starter dish presents a sublime chicken liver parfait delicately assembled in edible mandarin skin!
The average meal at Dinner by Heston Blumenthal should cost in the region of £75-£100 per person depending on the dishes chosen, with wine at an additional cost.
Recommended by Sarah from Dukes Avenue.
---
Dishoom
12 Upper St Martin's Ln, West End, London WC2H 9FB, United Kingdom & 4 other locations!
Inspired by Bombay's Iranian cafe culture of the 1960s, a meal at Dishoom centers around rich Indian flavors paired with good conversation and a warm cup of chai. Dishoom offers a variety of meal options from small plates to family-style pots of steaming biryani.
If you're visiting for lunch, try the Dishoom Chicken Tikka Roll. Spicy chicken with fresh, crunchy salad and sweet tomato jam, rolled up in a roomali roti (a thin Indian flatbread). Dishoom's most popular dish is their signature House Black Daal, a side dish packing robust flavor.
Dishoom also offers a breakfast menu not to be missed! The Bacon Naan Roll is a mouth-watering Indian twist on a classic breakfast sandwich: freshly baked naan straight out the tandoori oven, filled with eggs, cream cheese, fresh herbs, spicy tomato jam, and smoked bacon. (Served until 11:45 am daily.)
Plan to spend between £15-£25 per person on average depending on the meal. The attention to detail in Dishoom's recipes is also reflected in the restaurants' aesthetic.
Intricately decorated Persian tiles paired with greenery and vintage photos set the tone. In the warmer months visit the Shoreditch location to enjoy a meal on the verandah. Dishoom even matches every meal they serve with a donation to support free school lunch programs.
Recommended by Courtney from Courtney in the Middle Seat.
---
Farmacy London
74-76 Westbourne Grove, London W2 5SH, United Kingdom
Situated in the famous Notting Hill, Farmacy is an absolutely stunning vegan restaurant that sits in the price category of mid to high end. It has an amazingly well-thought-through interior with an ambiance great for a date night or catching up with your old city friends.
There is a great long table as you enter, which has also been used to host business conferences and meetings. Right in the middle of the restaurant is a stunning open bar, with seating around it to keep you busy whilst you wait for a table. Their array of cocktails and mocktails will ensure everyone is catered.
The vegan food is made perfectly every time and is sure to take non-vegan guests, as they will be pleasantly surprised at the texture and quality of the food.
We have visited the restaurant on numerous occasions, eaten almost everything they have to offer and our recommendation of their best item is the buckwheat with beetroot dhal for your mains, with mac and cheese as a starter. The service is spot on and the staff is some of the most friendly people you will meet.
If you happen to be visiting Farmacy during the morning or afternoon, then we would recommend their vegan chickpea omelette!
The ingredients used and the ambiance they set really justify their prices and it is worth it every time.
Recommended by Manpreet from Your Vegan Adventure.
---
Flat Iron
112-116 Tooley St, London SE1 2TH, United Kingdom and other locations
Flat Iron is an amazing and affordable steak restaurant with 6 locations around central London.
Flat Iron has gained its huge fan base and been able to offer delicious steaks at a reasonable price by utilising a lesser-known, but just a delicious cut of meat called the 'flat iron' hence the restaurant's name.
The no-frills restaurant offers the flat iron steak with house leaf salad for a mere £11, which is almost unheard of in central London. The menu also includes 5 sides (between £2.50 – £3.50) and 3 sauces (£1) to have with your steak as well as a selection of cocktails, beers, and wines.
Whilst the menu is small, it is well-polished and you will not be disappointed with any choice. They also have a specials board in the restaurant which typically advertises a particular beef of the day.
Flat Iron does not take reservations so you will have to queue to get a table. With that in mind, if you want to avoid the queues, then try going for lunch or an early dinner. This place is very popular so it will get busy.
Recommended by Carly from Two's Company.
---
Golden Union
38 Poland St, Soho, London W1F 7LY, United Kingdom
Nothing says British cuisine better than Fish 'n' Chips. If you're looking for the traditional chippy experience in London then head to the Golden Union. Located just off Oxford Street, Oxford Circus is the nearest tube stop and it's an ideal spot to enjoy a bit of English culture.
Golden Union has been serving fresh fish and handmade pies since 2008. In that time they have grown their reputation as one of the best Fish and Chip shops in London. They use the freshest fish from sustainable British waters, delivered daily and cooked to order in their delicious homemade batter.
They offer great value as well. A large Cod and chips (the staple of the chip shop) will set you back less than £15, even if you fancy a gherkin on the side! Golden Union has worked hard on offering a wide range of traditional chip shop fares such as Saveloy, Scampi, and homemade mushy peas.
This will be the tastiest meal you will ever find for less than £15 in London.
Recommended by Robert from Roam Yonder.
---
Homeslice Pizza
13 Neal's Yard, West End, London WC2H 9DP, United Kingdom, and other locations in London!
One of the many joys of London's modern culinary scene is the unique twist with which the world's most famous dishes have been adapted. Homeslice Pizza is a truly excellent example and undoubtedly one of London's best restaurants.
Unlike many other pizza chains, there are no complicated menus or array of unnecessary side dishes. Homeslice instead concentrates on producing high-quality, mouth-watering innovative flavours using a traditional wood-fired oven.
Examples include the delightful mushroom, pumpkin seeds, chilli flakes, chives, and soy truffle glaze or Wagyu beef, truffle creme fraiche, cipollini onions, and salsa verde. Our go-to favourite though has to be the chorizo, corn & coriander.
For the indecisive or those diners wanting to try more flavour combinations than your stomach can handle, Homeslice also offers a very helpful half and half option.
Served with paper plates and napkins, Homeslice provides a simple, unpretentious and relaxed environment in which to enjoy its 20" pizzas. Washed down with a local London lager or glass of wine, an average meal for two will cost in the region £40.
Now boasting six locations across the capital, head to Neal's Yard less than a five-minute walk from Covent Garden Tube Station.
Recommended by Paul from The Two That Do.
---
Kiln
58 Brewer St, Soho, London W1F 9TL, United Kingdom
No visit to London is complete without exploring the streets and lanes of SOHO. SOHO has many bars and restaurants but KILN on Brewer Street should top your list. The team has a huge focus on the quality and provenance of the ingredients they use, which they elevate with their cooking style influenced by the border region of Thailand, Burma, Laos, and Yunnan.
There is a small dining room downstairs where tables of 4+ can book, but it's better to add your name to the waiting list and try to grab a seat at the long bar. Here you can watch the chefs prepare cracking dishes such as Aged Hogget and Cumin Skewers, Wild Ginger and Beef Neck Curry, and the not-to-be-missed Clay Pot Baked Glass Noodles Tamworth Belly and Brown Crab Meat.
For a guaranteed treat, however, check out the daily specials which are driven by the team's constant search for high-quality ingredients.
The prices are very reasonable with small plates £3-£6 and larger plates £8-£11 each. If you're on a budget you will eat very well, but if you're treating yourself then just keep ordering!
Recommended by Clotilde from A Princess Travelling With Twins.
---
The Mac Factory
Camden Lock Market, The Mac factory NW1 8AB, United Kingdom
If you haven't seen the viral video about The Mac Factory going around Facebook, then you're honestly missing out. The Mac Factory is exactly what it sounds like: macaroni and cheese stand in Camden Market!
They have an abundance of flavors, so you're sure to find something that you like. I highly recommend that you try La Med Babe, which is sort of like an Italian Caprese in macaroni and cheese form.
Everything is super affordable, with all dishes costing less than £10. Be careful if you visit around lunchtime, because this is just a food stand and it can get crazy busy. I visited around 2 pm and luckily didn't have to wait!
While you're in the area, definitely check out the rest of Camden Town. There's a bunch of other shops and food stands nearby too. Trust me, you'll be in a food coma!
Recommended by Krystianna from Volumes & Voyages.
---
Mango Tree
46 Grosvenor Pl, Belgravia, London SW1X 7EQ, United Kingdom
Mango Tree is one of the upscale Thai restaurants in London that offers authentic traditional dishes in a contemporary venue decorated in a Feng Shui style. Located in Belgravia, a few minutes walk from Victoria train station, Mango Tree has won many awards for its dishes and it is one of the best places in London to try dishes from different parts of Thailand, besides the classics.
From the menu, I must mention the seafood platter, the dumplings selection, the fantastic red curry with roasted duck, pineapple, and grapes, and the tender grilled herb-marinated rack of lamb. Each dish is plated beautifully and with much care, with the curry arriving inside a pineapple and the dumplings on a bamboo steamer carefully arranged on a pandan leaf.
Mango Tree is not a cheap restaurant, a meal for two here costs around £120. However, they do have pre-theatre set menus where you can taste three of their dishes (main, appetiser, and dessert) for £21.
Recommended by Joanna from The World In My Pocket.
---
Manze's Pie and Mash Shop
87 Tower Bridge Rd, Bermondsey, London SE1 4TW, United Kingdom
Manzes Pie and Mash Shop on Tower Bridge Road is where Michele Manze, an Italian immigrant, set up one of the original Pie and Mash shops in London.
Pie, Mash & Liquor is London's original street food and dates back to the 18th century when London fast food was a pie made with eel, potato mash, and a gravy made with parsley and the water in which the eel had been cooked.
Today, this traditional fast-filling food is now minced beef or vegetarian pies, the same mashed potato and liquor that's made of chopped green parsley and special family recipe ingredients. You eat it by covering your pie with the liquor and then sprinkling it with salt and vinegar for a true East End London experience.
Manzes pie shop at 87 Tower Bridge Road, Bermondsey is the oldest shop in existence. This is a great place to experience what the first London fast food was like.
Take the Number 42 bus from Tower Bridge and take a 13-minute walk along Tower Bridge Road. You can also take away or order online for delivery.
Recommended by Sarah from A Social Nomad.
---
Oblix
The Shard, 31 St Thomas St, London SE1 9RY, United Kingdom
For fine dining with a view of central London, Oblix must be on your list. Perched on the 32nd floor in the world-renowned building, The Shard, this contemporary restaurant is split into two spaces. The East offers a refined but relaxed dining experience whilst the West has an urban feel, with a rotisserie and grill in full action in an open-plan kitchen.
Oblix is open for lunch, dinner, afternoon tea, and all manner of special occasions. If you're looking for a spot to celebrate the latter, the tasting menu is highly recommended. Designed with seasonal dishes and the option to add wine pairings, this is one gastronomic experience you will certainly not forget in a hurry.
The truffle flatbread with pancetta and ricotta is mind-blowing and the jasper-grilled sirloin and beef tenderloin will simply melt in your mouth. The tasting menu starts from £78 per person while dinner mains from the a la carte menu range between £20 – £70.
Reservations are required. If you're booking for 2 – 3 people, you may be lucky enough to be allocated a window seat. This is arguably the best spot, particularly if you're seated at dusk, for then you will witness the magic of central London lighting up the night.
Oblix sits above London Bridge train station and London Bridge Underground Station (Jubilee and Northern Lines), and is only a short walk from Borough Market.
Recommended by Jasmine from The Travel Quandary.
---
Old Thameside Inn
Pickfords Wharf, Clink St, London SE1 9DG, United Kingdom
If you are looking for a place where you can enjoy both a traditional British meal and views over Tower Bridge, the Old Thameside Inn will be perfect for you.
This authentic English pub is located by the Golden Hinde Ship, a few minutes' walk from London Bridge Tube Station.
It's a very good place to stop if you are checking out the Harry Potter filming locations in London as it's ideally situated a couple of minutes away from two famous ones: Borough Market and the Millenium Bridge.
At the bar, you will find a selection of amazing crafted beers and ciders. When it comes to food, the menu carries all of the most famous British dishes. Toad in the hole, fish pie, bangers, and mash… the Old Thameside Inn has them all!
If you are going on a Sunday, make sure to give a go to the traditional Sunday roast. Whether you choose to go for pork, beef or turkey, you can't get it wrong! Meals cost between £10 and £15 per person.
If it is raining, you can eat inside, but if the weather is nice, head to the terrace. It's right above the Thames, between London Bridge and Tower Bridge. The views over the city of London are gorgeous!
The Old Thameside Inn is one of London's best-kept secrets!
Recommended by Pauline from BeeLoved City.
---
Padella
6 Southwark St, London SE1 1TQ, United Kingdom
Padella is, without a doubt, one of the best fresh pasta places in London. This small restaurant in London Bridge, adjacent to Borough Market, is one of the few places in the capital city where a queue forms every evening to enter.
Not only is the food here absolutely delicious and the pasta freshly made every day, but it's also highly affordable. Plates range from £5-10. For example, the Taglierini with dry chili, garlic, and pangrattato is just £5, and the delicious Pappardelle ragu is £10. You can also enjoy a delicious range of antipasti such as Padella sourdough for £2 or creamy Burrata with Fiorano olive oil for £5.50.
The menu only has a select number of dishes, but everything is served promptly and the service is excellent. If you manage to snag seats on the bar stools, you'll also get to enjoy watching the chefs prepare the delicious dishes in front of you.
In terms of the queue, it opens daily at 11.15 am for lunch and dinner from 4.30 pm. It's highly recommended to arrive early – you might be shocked at how long the queue gets by even 15 minutes after these times.
The other option is to queue virtually using the WalkUp app – however, you have to be in the vicinity using the location service on your phone, but it means you can enjoy a nearby wine bar in Borough Market whilst waiting for the notification that your table is ready!
Recommended by Claire from Stoked to Travel.
---
Purezza
45-47 Parkway, Camden Town, London NW1 7PN, United Kingdom
In 2015, Purezza became the first fully-vegan pizzeria to open in the UK, and it has been wildly successful ever since. Run by Italians who know pizza and are truly passionate about it, they have managed to create a version of Neapolitan pizza that is healthier, kinder to animals, and better for the environment, and that tastes just as good if not better than the original!
As proof, Purezza has won the World Pizza Championship awards, not just in a vegan pizza category but when competing against animal-based pizzas.
Their pizzas range in price from £7.95 to £12.95 and all have names like Friends episodes. For example, the marinara is "The One with the Tomatoes", and the capriccioso is "The One with All the Seasons". They do offer other dishes as well, such as lasagna and a bowl featuring lentils and vegetables, but you really have to try the pizza while you're here.
Their London branch is located in very vegan-friendly Camden, just a short walk from the Camden Town metro stop and the popular Camden Market. They also have a restaurant in Brighton, and just recently they announced that they'll be opening one in Bristol soon as well.
Recommended by Wendy Werneth from The Nomadic Vegan.
---
Sherlock Holmes Pub
10 Northumberland St, Charing Cross, London WC2N 5DB, United Kingdom
The Sherlock Holmes Pub in Trafalgar Square is a traditional English pub that seems like any other pub from the outside.
However, if you venture upstairs, you'll find an exact recreation of Holmes' and Watson's apartment. According to the pub, this replica study is "as it appeared on a crisp day in the years following the great detective's return to London in 1894," deeming it a must-visit site for anyone who loves the series.
Its menu consists of pints and traditional pub food such as sausage rolls, scotch eggs, sandwiches, fish finger brioche, burgers, and traditional Sunday roasts. Vegetarian options are also readily available. If you're a Sherlock Holmes aficionado, you can also get themed Sherlock House Ale and Watson's Golden Ale.
The menu is quite affordable (ranging from £3 – 12, typical pub prices), and also features a beer garden.
The nearest tube stop is Charing Cross, a mere 2-minute walk from the pub. It's only a 4-minute walk from Nelson's Column and the National Gallery of London. However, since it's in a central, touristic location, be mindful of dining hours (especially dinner time, when it tends to be most crowded).
Recommended by Debbi from My Debstinations.
---
Sticks N Sushi
11 Henrietta St, Covent Garden, London WC2E 8PY, United Kingdom (many other locations around London as well!)
Having easy access to one of the world's best restaurants and take-out scenes is one of the biggest perks of living in London. You can get pretty much whatever you want, and fresh sushi is no exception.
The best sushi restaurant we've personally come across is called Sticks n Sushi. It's a chain of Japanese-style restaurants originating from Copenhagen, and they have been considered the top place for sushi in Denmark for many years. Luckily for Londoners, they have expanded into the UK as well.
Their flagship location is in Covent Garden, but they also have restaurants in SoHo, Greenwich, Canary Wharf, Victoria, Wimbledon, and at Kings Road. You can even order takeaway!
However, even though they've grown to become a sizable restaurant chain, Sticks n Sushi is no cookie-cutter experience.
The food and atmosphere have a distinct premium feel, and the quality of the products is genuinely very high. This also means you should expect to pay upwards of 200 quids for a 4-person meal with wine.
As indicated in the name, Sticks n Sushi focus almost as much on different kinds of skewers as they do on fish. Pick one of their menus to get the best of both worlds. However, take care not to skip the salmon carpaccio and make sure to taste a Hell's Kitchen roll as well. It's bite-sized perfection, we promise!
Recommended by Nick from The Danish Nomads.
---
The Summerhouse
Blomfield Rd, Little Venice, London W9 2PA, United Kingdom
The Summerhouse is a Canal-side restaurant located on the Grand Union Canal in Little Venice, near the Warwick Avenue Station (a 5-minute walk). However, for a unique experience, you can enjoy a 15-minute walk along the canal from Paddington Station to this location. It's a gorgeous walk through a really charming area of London.
The atmosphere and food offerings are what make The Summerhouse a great choice for an evening out. It is an open canal-side terrace and best visited in the summer months, however, they have heaters and blankets to make the winter months comfortable.
Their specialty is seafood (try the clam chowder!) but they have a really brilliant menu for any type of flavour palate. Reservations are not required, but I would suggest it (they have online reservations).
Tip: Walking along the canal is the best way to get to the restaurant – exit Paddington at the rear (near the tube entrance) and follow the route back to the canal you can carry on to the left of the canal (and keep left) until you see The Summerhouse restaurant (on the right) – there will be a bridge just past it to cross over the canal.
Recommended by Jamie from Travel Addict.
Check out our vlog from our trip to London!
Are you planning a trip to England? That's so exciting! I have many other great England posts to help you plan your itinerary.