12 Best Photo Spots in Rocky Mountain National Park
This post may contain affiliate links, which means I'll receive a commission if you purchase through my links, at no extra cost to you. Please read full disclosure for more information.
If you're wondering where the best photo spots in Rocky Mountain National Park are, you'll have a tough time finding just one. RMNP offers a wide variety of landscapes—rugged mountain peaks, sweeping valleys, alpine lakes, flower-dotted meadows, evergreen forests, blazing aspens…the list goes on!
No matter when you visit or where you choose to explore in the park, you're guaranteed some epic opportunities for RMNP photography. To help you get started, here are some of the absolute best photo spots in Rocky Mountain National Park.
Trail Ridge Road
If this is your first time visiting RMNP, Trail Ridge Road is a great place to start. It'll take you on a winding drive through some spectacular scenery, with many scenic overlooks along the way, such as Fairview Curve, Many Parks Curve, and Forest Canyon Overlook (though some areas are closed in winter).
If you hope to get a parking spot at all of them, get an early start—or late. The crowds start to thin after 3pm, and sunset makes for gorgeous photos.
Sprague Lake
Sprague Lake is an excellent spot for family photos. The easy 0.8-mile loop around the lake is suitable for kids, strollers, and wheelchairs (but, like all trails in RMNP, is not open to dogs).
You can stop wherever you like around the lake for photos, with views of the Continental Divide—including at least seven different peaks—reflected in the surface of the 13-acre lake. Go in the morning for better reflections.
Sprague Lake is beautiful any time of year, but in fall you'll get some nice yellows and oranges in the background of your photos as the leaves start to change. Fall is also your best bet for spotting moose. They're elusive, but Sprague Lake is one of their favorite places to stop for a drink, typically around dawn or dusk.
Alberta Falls
This RMNP photo spot offers something the others on this list do not: a waterfall crashing down a 30-foot gorge. In summer, it's an ideal spot for a picnic. In winter, you can enjoy unique views of the falls in their frozen glory, as well as much thinner crowds on the 0.8-mile trail.
Moraine Park
Moraine Park is one of the best photo spots in Rocky Mountain National Park, because it has a little of everything—mountains, valleys, rivers, trees, even some wildlife if you're lucky! If you're an early riser, this is a charming photo op at sunrise, when the first rays of dawn light up the east-facing mountains.
Moraine Park is especially beautiful in spring, when the valley is green and abloom with wildflowers. In autumn, it's a great place to spot elk—they stay here during their fall rut, or mating season.
Unlike some of the photo ops on this list, Moraine Park is also open through the winter. You can pop into the Moraine Park Museum for a respite from the cold, and to check out educational exhibits on the area's wildlife and geology.
Emerald Lake
As its name suggests, this lake resembles a jewel, a pool of deep green water nestled among craggy mountains and evergreen trees. There are lots of big rocks for posing on during your photo.
Getting to this photo spot requires a short hike (3.3 miles round trip), but it's an easy trek suitable for hikers of all skill levels. Note that in winter, you'll need microspikes and maybe even snowshoes.
Bonus: If you make the trek to Emerald Lake, you'll also get to see Nymph Lake and Dream Lake along the way.
Nymph Lake
If you don't make it all the way to Emerald Lake, the trail first takes you past Nymph and then Dream Lake. Nymph Lake is small and cute, encircled by a ring of evergreens. Summer is the best time to capture this lake's beauty, when the water lilies that dot the lake's surface are all blooming yellow.
Dream Lake
Past Nymph Lake, the trail loops all the way around Dream Lake, so you can choose your favorite spot for a photo. The steep cliffs and evergreen trees rising up on all sides make for a dramatic backdrop.
The approach to Dream Lake is gorgeous too, with rivers winding through the trees and mountains in the background. The landscape is particularly photogenic in spring, when bright green grass contrasts with the season's last remaining bits of ice and snow.
Old Fall River Road
Like Trail Ridge Road, Old Fall River Road offers many scenic overlooks for taking photos, though it tends to be less crowded. Keep your eyes peeled—bighorn sheep are often spotted along here in summer, as well as marmots in the rocky areas, and the occasional moose. This road is open seasonally from Memorial Day to mid-October.
Alpine Visitor Center
At the top of Old Fall River Road, at 11,796 feet above sea level, is the National Park Service's highest-elevation visitor center. It's a great place to stop for snacks or souvenirs, hit the restroom before your hike, or chat with a ranger about trail conditions. Because it's so high up, it's also one of the best places to take pictures in RMNP.
You can snap photos with valleys stretching away on either side and mountains in the distance. Take the short trail to get even better views, and maybe spot some pika or marmots scurrying around. This is also a good place for spotting elk and bighorn sheep in the spring, when the snow starts to melt and the harsh alpine tundra comes to life again.
Bear Lake
Because Bear Lake is an excellent spot for photos and the gateway to many of RMNP's best hikes, it's usually packed with tourists of all stripes—hikers, photographers, wildlife enthusiasts. Come here on a summer morning, and you'll swear the entire state of Colorado has turned out to join you.
Summer evenings, on the other hand, are a rare chance to have the place to yourself and snap as many photos as you want, without random tourists popping up in the background. You can watch the sunset cast Longs Peak in an orange glow and capture the reflections of the mountains, forest, and sky in the glassy surface of the water.
Around Bear Lake, you'll see both evergreen and deciduous forests, making it a stunning place to capture fall foliage. In fall, small patches of aspen forest create what look like pockets of flame amid the evergreen.
Lake Haiyaha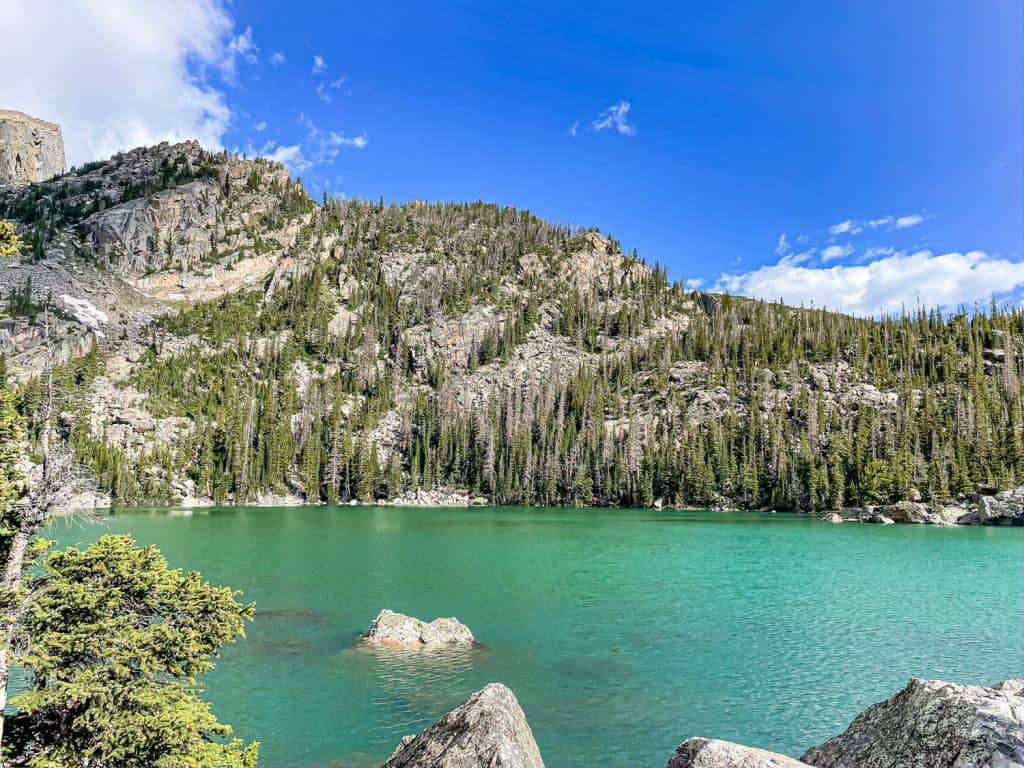 Lake Haiyaha (hi-YAH-ha) is a great photo op for the more adventurous, because it requires a slightly more difficult hike than the others on this list. It's 4 miles round trip and a moderately challenging trek, with rougher terrain and more elevation gain. But the views are worth it!
The Native American word "haiyaha" translates roughly to "big rocks," and you'll see why when you get there. The entire lake is ringed by large boulders.
Look to the east and you'll see where they came from: Chaos Canyon, a rock-filled dip between the surrounding mountains. The boulders are perfect for posing—you can sit or stand on them, or even jump so it looks like you're suspended in the air against the stunning backdrop.
Longs Peak
By far the most difficult photo spot to reach on this list, Longs Peak also has the best views. Keep in mind this is a Class 3 14er, with considerable exposure, route-finding, and rockfall potential that make it dangerous if you're unprepared. As a result, this photo spot is recommended only for experienced hikers who have already summited a few Class 1 and 2 14ers.
If you decide to go for it, summer is the best time to make the climb. It'll still be cold and windy at the summit, so pack layers, a hat, and gloves. The hike typically takes 9 to 12 hours, and it's recommended to arrive at the trailhead around 2 a.m. to ensure you have time to reach the summit and get back below the tree line before any afternoon thunderstorms roll in.
Stunning views await you at the top. Like any 14er summit, you'll feel like you're on top of the world, with rugged, possibly snow-dusted peaks of the Rocky Mountains stretching away on all sides. Longs Peak is, without a doubt, one of the best photo spots in RMNP—just know what you're getting into before you go!
Whether you're a professional photographer or just dreaming of a swoon-worthy Instagram shot, RMNP has a photo op for you. You can snap pics against a backdrop of wildflowers in the warmer months, colorful foliage in the fall, or dramatic snow and ice in winter.
Now go do some exploring! Drive through the park, take a hike, and find the best photo spots in Rocky Mountain National Park for you!
Woohoo, you're heading to Colorado! As Colorado locals, we have tons of posts for this state. Explore more below!