Cold Burn of Magic Blog Tour, Dream Cast & Giveaway!
This post may contain affiliate links, which means I'll receive a commission if you purchase through my links, at no extra cost to you. Please read full disclosure for more information.
I received this book for free from in exchange for an honest review. This does not affect my opinion of the book or the content of my review.
Cold Burn of Magic
on April 28, 2015
Genres:
Fantasy
Pages:
323
Format:
ARC
Goodreads
There Be Monsters Here. . .
It's not as great as you'd think, living in a tourist town that's known as "the most magical place in America." Same boring high school, just twice as many monsters under the bridges and rival Families killing each other for power.
I try to keep out of it. I've got my mom's bloodiron sword and my slightly illegal home in the basement of the municipal library. And a couple of Talents I try to keep quiet, including very light fingers and a way with a lock pick.
But then some nasty characters bring their Family feud into my friend's pawn shop, and I have to make a call--get involved, or watch a cute guy die because I didn't. I guess I made the wrong choice, because now I'm stuck putting everything on the line for Devon Sinclair. My mom was murdered because of the Families, and it looks like I'm going to end up just like her. . .
(Last Updated On: December 12, 2021)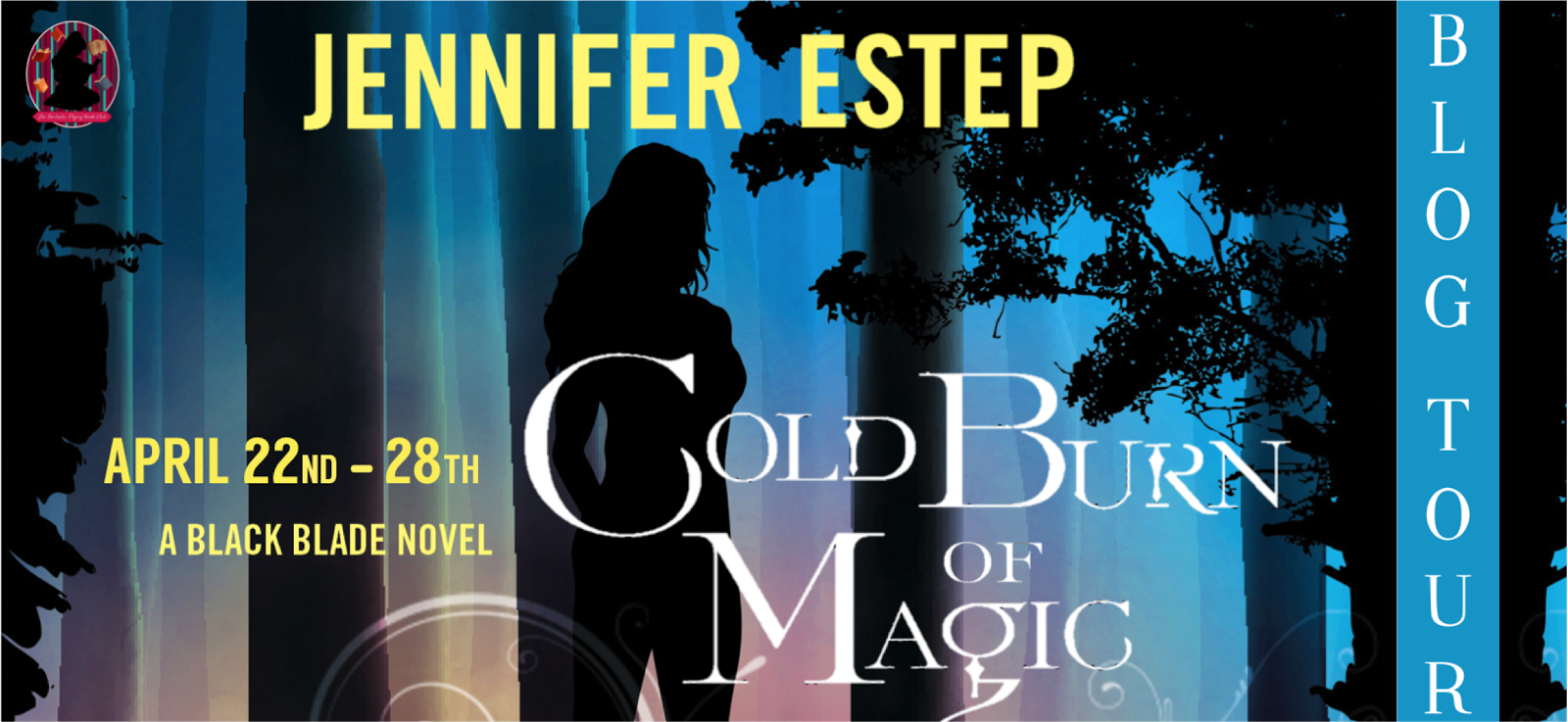 I've never read a book by Jennifer Estep before, so when I saw that this was part of a blog tour, I was absolutely stoked. I've heard of her Mythos Academy series (I mean, who hasn't, right?) and I thought it looked like something I'd really enjoy. That's why I absolutely jumped at the chance to read Cold Burn of Magic.
First of all, let's talk about the characters. The main protagonist, Lila, is such a badass. She's a tough fighter who will do what she needs to do in order to survive. I definitely respected her because of that. I also really loved Devon, who Lila accidentally saved from a kidnapping in the beginning of the book only to find herself brought into a feud between the families in her town. He's a Sinclair, which is one of the richer and well-known powerful Families in town. I definitely think he was my favorite character.
Mo was a chill character too. He had known Lila's mother and they were good friends, and after her mother was killed, Lila begins working for Mo. She steals things for Mo to sell at his shop. It's how the both of them make their money.
One of my favorite things about this book was the town. The town that Jennifer Estep created is filled with supernatural and mystical beings that you hear about in fairy tales. There's pixies and such, and just about everyone has a magical power of some sort. Lila, the main character, is blessed with a Sight power, so she can see into people and know what kind of person they are because her eyes are so heightened compared to the rest of her senses. The whole magic aspect of this book was just the coolest. Also, normal people were allowed to visit the town! Imagine that, visiting a town where supernatural creatures exist! Wouldn't that just be so awesome?!
At the end of this read, I was definitely satisfied. I was super worried that it was only a single book, but come to find out it's actually part of a series! I can't wait to continue on and find out what happens next. I highly suggest giving this one a read because it's worth your while!
Demi Lovato as Lila Samuel Larsen as Mo
Nat Wolff as Felix Brendon Urie as Devon