Book Review: The Rise and Fall of the Gallivanters by M.J. Beaufrand
This post may contain affiliate links, which means I'll receive a commission if you purchase through my links, at no extra cost to you. Please read full disclosure for more information.
(Last Updated On: November 1, 2021)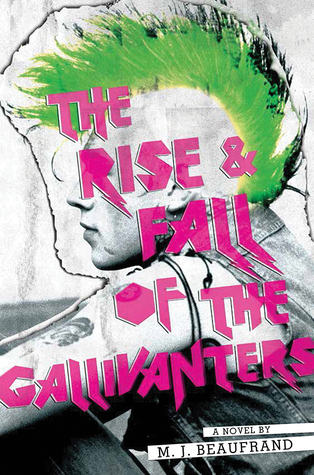 Title:
The Rise and Fall of the Gallivanters
Author: M.J. Beaufrand
Publisher: Amulet
Release Date: May 12, 2015
Source: Netgalley
Edition: eARC
In Portland in 1983, girls are disappearing. Noah, a teen punk with a dark past, becomes obsessed with finding out where they've gone-and he's convinced their disappearance has something to do with the creepy German owners of a local brewery, the PfefferBrau Haus. Noah worries about the missing girls as a way of avoiding the fact that something's seriously wrong with his best friend, Evan. Could it be the same dark force that's pulling them all down?
When the PfefferBrau Haus opens its doors for a battle of the bands, Noah pulls his band, the Gallivanters, back together in order to get to the bottom of the mystery. But there's a new addition to the band: an enigmatic David Bowie look-alike named Ziggy. And secrets other than where the bodies are buried will be revealed.
**Thank you so much to Amulet for letting me read and review this book in exchange for an honest review!**
The Rise and Fall of the Gallivanters takes place in Portland, at a time where young girls keep turning up missing. Usually no remains are found at all; they just completely disappear.This is extremely scary, because nobody knows who is going to end up missing next. After hearing about a battle of the bands at PfefferBrau Haus, a local German brewery that seems suspicious when it comes to the disappearance of the girls, Noah decides that he needs to get the band back together. It becomes his mission to find out what happened to all of these girls; he wants to put an end to it.
This book was quite amazing! This book is a paranormal story, but the awesome thing about it is that it is set in the 1980's. Yes… you heard me right! I'm a huge fan of the 1980's, so as soon as I found that it was a paranormal set during that time, I loved it even more. It's just so original.
I also loved the characters. Our main character, Noah, is a punk rocker who has gone through some tough things in life with his family. He's just this all-around cool guy. He also has green hair which I love. He is best friends with a guy named Evan, who suffers from horrible migraines. Noah wants Evan to have his time in the spotlight like he deserves, which is another reason why Noah decides to get the band back together. The band is called The Gallivanters and consists of Noah, Evan, Jaime, and Sonia, who is Noah's ex girlfriend. Noah had a bit of trouble getting the band back together of course, but after meeting a guy named Ziggy who looks just like David Bowie (he also has a rad voice) the girls decide to join. They're also in it for the money, since they're graduating from high school soon and will need it for college.
Throughout the book, we really get to see the characters grow and change which I enjoyed. Noah had become such a different person by the end of the book and I think he saw the world a bit differently. During the reading, I had to piece together all the little pieces of what was going on and it was so great when I found out what had happened in the end. It definitely made my mind work a bit! I'd recommend this book to anyone who loves paranormal stories and the 80's, because when they're brought together with a mysterious plot and totally rocking characters, they make for such a great story!
Rating: