Book Review: Cuckoo Song by Frances Hardinge
This post may contain affiliate links, which means I'll receive a commission if you purchase through my links, at no extra cost to you. Please read full disclosure for more information.
(Last Updated On: November 1, 2021)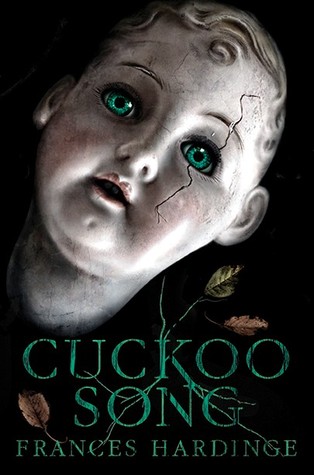 Title: Cuckoo Song
Author: Frances Hardinge
Publisher: Amulet Books
Release Date: May 12, 2015
Source: Netgalley
Edition: eARC
When Triss wakes up after an accident, she knows something is very wrong. She is insatiably hungry, her sister seems scared of her, and her parents whisper behind closed doors. She looks through her diary to try to remember, but the pages have been ripped out. Soon Triss discovers that what happened to her is more strange and terrible than she could ever have imagined, and that she is quite literally not herself. In a quest to find the truth she must travel into the terrifying underbelly of the city to meet a twisted architect who has dark designs on her family-before it's too late…
Set in England after World War I, this is a brilliantly creepy but ultimately loving story of the relationship between two sisters who have to band together against a world where nothing is as it seems.
**Thank you to Amulet Books for allowing me to read this in exchange for an honest review!**
As soon as I saw this book on Netgalley, I just knew that I had to request it. This book is unique and I could tell that as soon as I read the synopsis. Cuckoo Song follows a young girl named Triss who wakes up after being terribly sick. Her parents are deeply concerned about her, though her sister, Penn, is extremely angry and upset with her. Of course, Triss has no idea why that is. As the story goes on, we come to find out that perhaps Penn has made a deal with someone she shouldn't have and maybe, just maybe, their brother Sebastian who was fighting in the war isn't actually dead, no matter what their parents tell them.
I found myself to be creeped out by this book quite a lot. For one, there's a lot of dolls. I don't know about you guys, but when I think about creepy, I think about dolls coming to life. This book included a lot of that. These dolls would sometimes move right in front of the main characters eyes and I had to stop myself to think about it and get myself to not be creeped out anymore. It was really something else! Also, the main character cried spiderwebs at one point. How, just how!?
I absolutely loved how this book was a paranormal set just after World War I. I've never read a book like that before, so I really enjoyed that aspect. At times, I was really wary of the parents because they always seemed to be happiest when Triss was sick. They also seemed to deeply hate on Penn when she wasn't even a bad kid. The parents just seemed way too overprotective, though then again they lost a son to the war. On top of that, they completely blocked out their son's fiancee, Violet, after Sebastian died! Isn't that just the cruelest?
I'd definitely say that this book is perfect for fans of Lemony Snicket's A Series of Unfortunate Events. The two books were greatly along the same lines when it came to the creepiness and weirdness factors. If you liked one, then please do check out the other! I'll be sure to pick out more books by Frances Hardinge in the future.
Rating: