Book Review: Abby and the Cute One by Erin Butler
This post may contain affiliate links, which means I'll receive a commission if you purchase through my links, at no extra cost to you. Please read full disclosure for more information.
I received this book for free from in exchange for an honest review. This does not affect my opinion of the book or the content of my review.
Abby and the Cute One
on November 16, 2015
Genres:
Contemporary
Pages:
197
Format:
ARC
Goodreads
Disclaimer: This Entangled Teen Crush book is as forbidden as the secret romance it contains! It has hot kisses, graphic language, and extreme misbehaving. DO NOT GET CAUGHT WITH THIS BOOK…unless you want everyone to know you believe in true love.
Every member of Seconds to Juliet has a girlfriend—except for Nathan Strong. Now the band's manager is leaning hard on "The Cute One" to play the role of the band's heartthrob. With the band's sales in decline, it's up to Nathan to keep the fans' fantasy alive.
The plan is to stage a fake relationship and a fake breakup, and then let the fans fight to be the one to mend Nathan's broken heart. Just one problem. There's another girl in the picture-one Nathan can't stay away from. In private, Nathan's stealing kisses with the band's new opening act, Abby Curtis.
If they're caught, no one wins. Abby will be fired, and the band might not recover the success they need to survive. But even with the pressure mounting, Nathan and Abby can't stop themselves from stealing one more touch, one more kiss. And it's only a matter of time before it all falls apart.
(Last Updated On: November 27, 2021)
The second that I got an email about Abby and the Cute One, I knew that I had to read it. The Backstage Pass series is everything I've always wanted in a series of books, so I couldn't pass up a story about the last boy in the band.
I loved how quickly this story jumped right in. The reader is immediately introduced to Nathan, who is seen as the band's most eligible bachelor. Since everyone else in the band is now taken, he must be seen as the one to date. There's even a huge publicity stunt for him to be dating other celebrities in order for the band to be open to other fan bases. However, Nathan isn't really into that. He likes real, down-to-earth girls, which is why he immediately falls for Abby. Abby is a wonderful character. She is known for her covers on YouTube and ends up trying out to be Seconds to Juliet's opening act for the tour. Of course, she gets the gig, though now that she's on the tour, she and Nathan aren't really supposed to have anything to do with each other.
I absolutely adored getting to know more about Nathan! I really liked how sweet he was and how he actually liked girls who weren't all dolled up like the celebrity girls he was used to. I also really liked Abby and I found her to be a special character because in a way, she was kind of famous already from her YouTube videos. That made her unlike any of the other girls that the guys in the past had fallen for.
My favorite part was actually how the two of them met. I won't spoil anything (even though it's pretty early on), but I'm telling you it's super cute and adorable. I honestly won't stop recommending this series to people, especially now that not one book in this marvelous series has let me down. Each book in the Backstage pass series has an amazing swoon-worthy romance, and Abby and the Cute One is no exception.
—————————-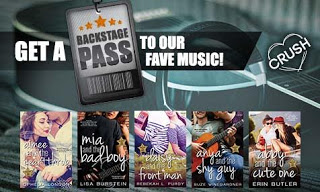 Since this series is all about music, I also decided to make a list of my top 3 favorite bands with some of their videos for you guys to check out! Also, be sure to click on the photo above to check out what some of the authors of the Backstage Pass series have to say about their favorite music!
1. Imagine Dragons
I've talked about this band countless times before, but their music makes me so happy. I just love their tune and the sound of their voices. I honestly don't know what else to say about them besides "give them a listen and you'll love them too"!
2. Halsey
I recently found Halsey and I'm honestly in love with her music. Her voice is so unique and her music is incredibly catchy.
3. Shawn Mendes
Though he's a singer and thus this isn't technically a band, I absolutely adore his song "Stitches". It came out a while ago and I still can't help but dance when I hear it!