Blog Tour & Giveaway: Naked by Stacey Trombley!
This post may contain affiliate links, which means I'll receive a commission if you purchase through my links, at no extra cost to you. Please read full disclosure for more information.
I received this book for free from in exchange for an honest review. This does not affect my opinion of the book or the content of my review.
Naked
on July 7, 2015
Genres:
Contemporary
Pages:
304
Format:
ARC
Goodreads
The best place to hide is in a lie…
I could never fit in to the life my parents demanded. By the time I was thirteen, it was too much. I ran away to New York City…and found a nightmare that lasted three years. A nightmare that began and ended with a pimp named Luis. Now I am Dirty Anna. Broken, like everything inside me has gone bad.
Except that for the first time, I have a chance to start over. Not just with my parents but at school. Still, the rumors follow me everywhere. Down the hall. In classes. And the only hope I can see is in the wide, brightly lit smile of Jackson, the boy next door. So I lie to him. I lie to protect him from my past. I lie so that I don't have to be The Girl Who Went Bad.
The only problem is that someone in my school knows about New York.
Someone knows who I really am.
And it's just a matter of time before the real Anna is exposed…
(Last Updated On: November 1, 2021)

Today I am lucky enough to be part of the Naked blog tour!

Naked was definitely a unique book. It was unlike anything I'd ever read before. It follows Anna, who ran away from her family at age thirteen. She ended up in New York City, dating a guy named Luis who taught her to sell her body in order to make money and keep the two of them afloat. Of course, Anna believes that Luis wasn't telling her what to do, because he "loved" her.
After getting caught by the police, Anna is brought back to her family and Luis is sent to go on trial. She's forced back into her home, where she hasn't been in three years. Everything is so different; her parents even adopted a dog that they think is a boy though she can tell it's a girl. Her parents tell her that she has to go back to school, even though the entire freshmen class is way younger than her. At school, she makes a friend named Jackson, amidst everyone calling her names and bullying her. However, she gets a note from someone saying that he/she knows everything about her, as well as her life in
New York City
when she was known as "Exquisite".
This book was definitely different. I really loved Anna and felt so horrible for her situation. I hated her father and even her mom, though her mother had grown on me by the end. She had reason for running away; I just wish that someone had noticed that something was wrong in her life before she got the opportunity to do so. It sucks that she was so young too, because when you're that young you're easily fooled and manipulated because you're so naive, which Luis definitely realized.
I think Jackson was my favorite character. He was so sweet and always gave Anna the benefit of the doubt, especially when everyone thought the worst of her. I also loved learning more about Jackson throughout the book. I'll be sure to check out more by Stacey in the future.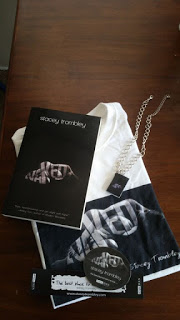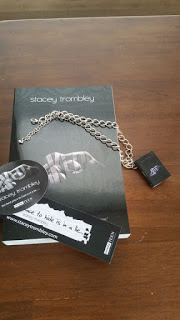 a Rafflecopter giveaway

Blog tour put together by YA Bound Book Tours!