Blog Tour | All We Have is Now & Giveaway!
This post may contain affiliate links, which means I'll receive a commission if you purchase through my links, at no extra cost to you. Please read full disclosure for more information.
I received this book for free from Publisher in exchange for an honest review. This does not affect my opinion of the book or the content of my review.
All We Have Is Now
on July 28, 2015
Genres:
Science Fiction
,
Contemporary
Pages:
272
Format:
ARC
Source:
Publisher
Goodreads
What do you do with your last day on earth?
Just over twenty-four hours are left until an asteroid strikes North America, and for Emerson and everyone else who didn't leave, the world will end. But Emerson's world already ended when she ran away from home. Since then, she has lived on the streets, relying on her wits and on her friend Vince to help her find places to sleep and food to eat.
The city's quieter now that most people are gone, and no one seems to know what to do as the end approaches. But then Emerson and Vince meet Carl, who tells them he has been granting people's wishes—and gives them his wallet full of money.
Suddenly, this last day seems full of possibility. Emerson and Vince can grant a lot of wishes in one last day—maybe even their own.
(Last Updated On: December 12, 2021)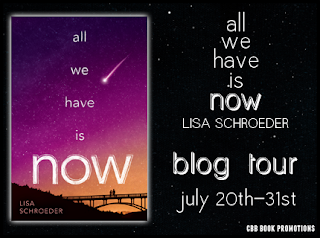 Today I'm lucky enough to be part of the All We Have is Now blog tour, brought to you by CBB Book Promotions!
The second I heard about All We Have is Now, I knew that it'd be a book to remember. I'm a huge fan of dystopians, but I found this book intriguing because it toys with the storyline of what happens before the world ends instead of after.

The story follows Emerson (I just have to say that I love this name) and Vince. The two of them have been living on their own out on the streets for over a year. When the world finds out that an asteroid is going to hit North America, Vince and Emerson decide that they'd rather commit suicide and die peacefully. The two go to a bridge that is known as a place with jumpers go to commit suicide and instead end up meeting a man named Carl. Carl says that he has been helped by someone and was told to pay it forward by helping five others, and that Vince and Emerson would be the fifth. They end up with a wad of cash even though cash can't really be used anymore.
Of course, their job is to pay it forward to other people. That's why Vince and Emerson decide to spend their last day alive helping others so that their last dream or wish could come true. I think that's my favorite thing about this story; it really sheds light on the point that it's good to help other people. I love how Vince and Emerson worked to help others. It was sweet, even if it was just because Carl helped them first.
Emerson and Vince were great characters. I think it's awesome that they had known each other for a very long time so that they were close. Living on the streets can't be that easy, so I guess it's good that they do have each other. I also liked Carl, who had his own chapters in the book every once and a while. It was cool to see how different people reacted to the same situation: what are you going to do with your last day before an asteroid strikes your home?
Lisa's writing was absolutely impeccable. I adored how there would be alternating perspectives in the story. We also got to see some poetry written by Lisa, which I'd have to say was one of my favorite things about this book. It was just so creative and I'm a huge fan of poetry, so I loved reading those sections! I'll be sure to check out more of her novels in the future!

There's even an awesome giveaway for you guys, and yes, it is international! The winner will receive a $40 gift card to Powells or a signed copy of All We Have is Now!