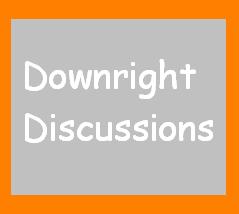 This week's topic is brought to you by Catherine @ The Book Parade.   You should definitely take a look at her blog!
I feel like this is one of the biggest and most popular discussions out there, right next to love triangles. So, let's look at the highs and lows of hard copies and e-books, eh?
Hard Copies
Pros: I feel like when reading a hard copy, I'm actually getting something out of it. I understand more.
The book can sit and look pretty on your shelf.
You can actually touch it and feel it.
Cons: Books can take up a lot of space. Trust me, I'd know.
E-Copies
Pros: You can have tons of copies of these and they barely take up any space.
They are cheaper… plus there is always great deals.
Cons: You can't actually touch the book… just the screen.
I've tried reading e-copies on my iPod, and I barely get anything out of them, because I feel as if I'm just reading from a computer.
My Final Verdict:
I can't stand e-copies. I don't have an e-reader and I definitely don't want to try to read on either my iPod or the computer. I don't ever get anything out of it. Hardcopies make me happy and I love to rearrange how they look on my shelf. Plus, I can sit and just hold or hug the book because of its awesomeness. I can't just hug a computer.
What do you think?